How To Get Reviews On Your Google+ Local Pages
Google+ Local is a fantastic feature for local businesses. It's a section within Google+ for businesses to establish their online presence, and it's very important for small businesses to create a Google+ Local page.
The page should be kept up-to-date in terms of description, address, contact details, pictures, and videos (we covered this in our recent article about Google places ranking factors).
The one thing that adds power to this entire equation is: Reviews.
In this article let's look at why it's important to have reviews for your Google+ Local page and some ideas on how you can start to get your customers leaving you reviews if you haven't already.
Below is a quick look at the Google + local listings I get when searching for restaurants in Derby.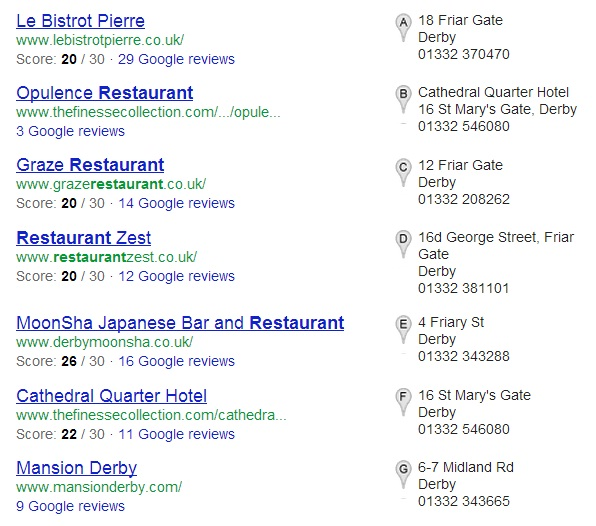 As you can see each of the listings have a rating out of 30 and a certain number of reviews.
As a business owner you want to have as many positive reviews as possible and get your review score as high as it can be.
If your competitors consistently get more reviews than you over time, they're going to begin to outrank you on local search terms. Reviews don't only help your local search position, though, they also increase the likelihood that a visitor turns into a customer.
When a customer sees a Google+ Local page with lots of positive reviews, what kind of feeling do you think they get? For me, personally, it can help to make that final decision when I am looking for that type of business.
So, how do you get customers to leave you reviews?
We get asked many times about how to get Google reviews. Unfortunately it isn't as simple as just waiting for them to happen. For the most part, the people that leave unsolicited reviews on Google+ Local are going to describe a negative experience at your business. If you want a constant stream of high quality reviews, you're going to have to work for it.
Fortunately, we're here to give you 6 simple methods you can begin implementing today to improve your reviews on Google and other popular local business directories.
Ask! – It's important to get in the habit of asking for reviews whenever you find yourself able to. Did you just have a great interaction with a customer in your restaurant or store? Have you just had a great experience with a customer over the phone? Ask them to leave you a review! You may be surprised how many people are willing to help you when asked and the worst thing that can happen is a 'No' - but you will find that if you ask enough people the same question a good number of them will say 'Yes'.
Family & friends – What a great resource to help you promote your business! If you've done work for family or friends, there's nothing wrong with asking them to leave you a review. Don't abuse this tactic right away though; you don't want to use up all of your family/friend resources in the first week of building reviews!
Reach out to previous reviewers! – I'm sure you have customers who may have left reviews for you in the past, maybe in a different format or on a different website. Why not reach out to them and ask them to leave another review on your Google+ local profile? You already know that they're the type to leave a review and that they like your business.
Review cheat sheet – Put together a brief "cheat sheet" that gives instructions on how to review your business. Provide links to your Google+ Local profile, now hand this sheet out to customers you'd like to review you.
Website review page – Similar to the physical review "cheat sheet" but accessible online. Provide links to your online profiles with instructions on how to leave a review. Make the URL to this page easy to remember! You should be able to have someone easily remember how to find this page.
Email marketing – If you don't already collect emails, you need to start today. It's as easy as collecting business cards or having a pen & paper signup sheet. When sending emails out to customers, always ask for a review or provide a link to your newly created "Review Page" on your website.
So there you have it, now for you to get started. If there is one piece of advice I can give to you before employing these methods it would be:
Don't push too hard too fast!
If your Google+ Local page has been stagnant for the most part, getting 10 reviews in 1 week may look unnatural. If you're just starting out, you should try to get 3-5 reviews per month - Local SEO should be seen as a long term project.
Article by
Jarrad Mordue