B2B Website Design: How To Have A Website That Generates Leads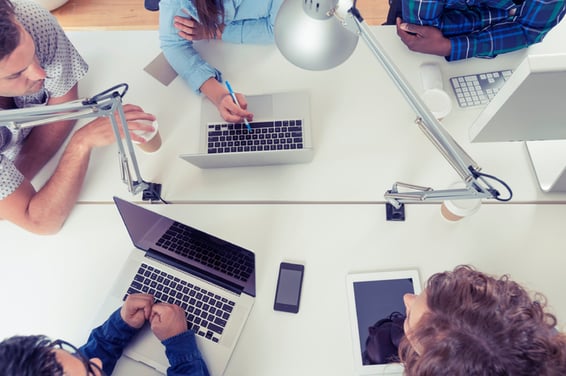 A consumer based website demands immediate action – buy now, call now, or enquire now. And that makes sense – if you are looking for a plumber, the chances are you have a leaking tap and need a plumber right now. And if you are looking at a holiday, or concert tickets, or a new pair of shoes, then those are goods which you can make quick decisions on and a good website will encourage you to act quickly.
A business-to-business (b2b) website demands action as well but there is a difference – b2b sales are often more complex and involve more stakeholders, and they usually have longer buying cycles.
So while you may still want people to call or enquire or buy now – the chances are that most of your website visitors are probably not ready to do that yet. In fact, b2b buyers are now looking to do more and more research of their own research online first before getting in touch with a company (a study by CEB in 2012 showed that b2b buyers are 57% through their decision making process before they start a sales conversation with a company).
Like it or not, your website is now playing an ever-increasing part of your buyer's decision making process.
So what makes a great b2b website design?
Well there are some obvious ones – the first impression your website design gives needs to be right, so you can't get away with a design from 2011 any longer. If the first impression isn't right you leave yourself a mountain to climb and the chances are your visitors will simply lose interest and wander off. The first impression is created by a combination of great design, great images and clear messaging – and when done right it means your website visitors will have a more favourable impression of your business through their entire journey with you.
A good website also needs to be mobile responsive so that it looks great on all devices, and you'll need a content management system so that you are in control of your content and can easily add, change and edit your website and blog. You'll also need to integrate social media – social sharing icons, follow buttons and even Twitter feeds or Facebook like boxes.
However, you could say all of these points about consumer websites as well…
So what is unique about b2b websites?
Well firstly, an understanding that your site plays such an important role in the decision making process that it needs to be full of useful content – making your website full of good information will help in the following ways:
Establish you as an expert
Attract search engine traffic Provide great content to share on social media
Educate your prospects
Provide useful resources for existing customers
Create more referrals both in the real world and also links
Beyond the online 'brochure'
A standard brochure website will have a home page, company profile, details of products and services and a contact page –for a modern b2b website that is not enough. I recommend a blog for regular articles and thought leadership, a resources or help section for existing customers, FAQs for people who are new to your products or services and case studies and testimonials for people who are considering working with you.
Websites designed for b2b lead generation
In order to generate leads, your website needs to be full of offers. Not discounts or special offers, but content offers – free guides, reports, videos or checklists that potential customers can sign up to download.
With long buying cycles, a large percentage of your website visitors will not be ready to talk to you, they will simply be gathering information. So offering additional information in exchange for their contact details is a win/win – they get access to premium, in-depth information (which is exactly what they want in their research/consideration phase of their buying process), and you get their contact details so you can stay in touch with them.
If you are using a marketing automation software program, you can stay in touch with them automatically by sending a pre-programmed sequence of emails designed to educate and inform your prospective clients – this is called lead nurturing.
If not, it gives you the opportunity to at least start a conversation with someone who would otherwise simply have visited your site anonymously and may never have come back.
JDR's B2B Website Design Service
When we work with a b2b client, we will look to plan these offers with you, according to your target market. We will help you map out the user journey and the content required – and our writers can even write the content for you.
All our sites are made mobile responsive as standard, and are all built using modern content management systems that put you in control.
We custom design each site, and create conversion-focussed landing pages as well as call to action buttons to drive conversions for your offers – and this is overseen by a project manager who'll work with you every step of the way.
In addition, we provide a fantastic ongoing hosting and support service which includes free training, regular marketing training days, and telephone and email support from our friendly and professional team in Derby.
To get a quote on a website design project or to find out more, contact our team on 01332 343281 or get in touch using our contact page.