A UK Business Owner's Guide To Display Advertising

Have you started using Google Adwords for advertising on the Search Network? Or are you new to this marketing tool altogether? In either case you're in a great position for learning about the Display Network; a dynamic form of advertising for dramatically improving business exposure and sales.

The Display Network: An Introduction
When you're online do you notice those adverts that appear at the sides of your screen on certain websites? These are Adwords Display ads. These are part of the Google Display Network of ads which is collectively known as Display advertising. Read on to find out about the valuable opportunities and smart targeting available to you with this modern advertising method.

The Display Network combines Google websites such as Google Finance, Youtube, Blogger and Gmail, with over 2 million partner websites who show Adwords Display ads, including apps and mobile sites.

By setting up an Adwords Display Network campaign, you can benefit from their advanced targeting options. Engage audiences further with a choice of professional and attractive ad formats. Here are the key opportunities with Display advertising in Adwords:
Specific domains – enter the URLs of websites that will be more likely to lead to ad clicks and sales. E.g. an insurance provider will want to appear on review and comparison websites where people are open to new options.
Topics and interests – the "Topic", "Display keywords" and "Interests & remarketing" options target people who are likely to be interested in your products/services.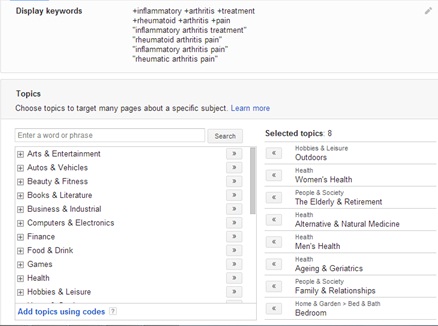 Ad Engagement – Create text, image or video ads using templates or your own designs. Engagement Ads go the extra mile by tempting people to interact with your ads with creative messages.
Read more about Engagement Ads here.

Here are some more features and benefits of advertising on Google's Display Network that add value to your sales process and save serious money.

Features:
▪ Effective bidding system -
Your Actual cost per click (CPC) will often be less than your Max. CPC bid. Your Actual CPC is based on the average bid of competitor ads and the Quality Score of the ad below yours.
▪ Exclude automatic ad placements -
If you are appearing on irrelevant websites, you are wasting your budget. Choosing the manual ad placement option in Campaign Settings will give you control over how much you spend on the Display Network and where.
▪ Run reports -
Download Display reports in Audiences > Google Analytics to streamline the advertising process. Find out who visits your site and who converts to improve Age, Gender and Interests Display ad targeting.
▪ Remarketing -
Use Remarketing in Google Analytics to show closely matched ads to past visitors. This will improve conversion rate and CTR (click through rate), as well as tracking of people's past interactions.

Benefits:
▪ Cheaper clicks -
Display Network CPC is up to 50% less than the Search Network in Google Adwords. You spend less compared with offline advertising and get far more exposure.
▪ Quick and easy -
Using Adwords Display Ad Builder, choose and customise a range of professional ad templates in simple steps. 80% of Display Ad Builder users have never created a Display campaign before – that's how easy it is!
▪ Easy split testing -
Let Adwords recreate your ad in 13 sizes then monitor which performs the best, pausing losing ads with significantly less clicks and CTR.
▪ Direct targeting -
Use Topic, Interests and Keyword targeting to catch the attention of the right audience on the right websites.

For further information, watch this video about how Google Display advertising works: What is the Google Display Network?

3 Other Types of Display Advertising
Alongside Google Adwords Display Network, there are 3 other Display options available to you: YouTube ads, Facebook ads, LinkedIn ads.
1. YouTube
Features:
▪ Easy to set up -
As a Google partner YouTube has close links with Google Adwords, so you can use the Adwords Display Ad Builder to create InVideo and companion ads on YouTube within minutes.
▪ Ad positioning -
Include your Display ad at the bottom of a video while it plays (InVideo) or at the side or top of a related video (standard banner ad).
▪ Video targeting -
Target where banner ads appear to improve CTR using keywords and topic categories, similarly to Adwords Display ads.

Benefits:
▪ Diverse options -
Choose from banner, InVideo, in-stream, in-slate and in-search. In a nutshell, these appear at various stages; during a video search, at the side, overlapping a video, or as adverts before the video plays.
▪ Excellent exposure -
Around the world, people watch over 1 billion videos a day on YouTube. That's an unbelievable amount of exposure and potential interest if you target your ads well.
▪ User friendly -
Adwords' Display Ad Builder makes it easy for small businesses to make professional InVideo ads – one of the most effective on YouTube.
2. Facebook
Features:
▪ Sponsored stories -
You can sponsor activity on your business's Facebook page. For example, when someone "likes" it you can sponsor that action so that it appears in more of that person's News Feeds. This is a great way of getting brand exposure in social groups.
▪ Cookies tracking -
Cookies or pixel tags are attached to Facebook Display ads to ensure that a product sale is connected to a particular advert.
▪ Mobile engagement -
Facebook can be accessed on desktops and mobile devices, meaning you can advertise wherever and whenever. 3 out of 4 Smart phones have Facebook installed and over 50% of Facebook users visit every day!

Benefits:
▪ Highly relevant -
Facebook can let you get closer to people who will like your business, by age, location, gender and more.
▪ Wider reach -
Unlike many forms of online advertising, Facebook Display ads usually reach 91% of their audience, giving advertisers amazing value for money.
▪ Ads for everyone -
From ecommerce, retail and consumer goods, to automotive, travel and finance, Facebook can help you run well-targeted, successful Display ads.
3. LinkedIn
Features:
▪ Good coverage -
These ads are shown to almost everyone on Linked in and their partners: New York Times, BusinessWeek and CNBC.
▪ Business targeting -
Target according to company size, job titles, industry, location and more to attract the professionals who will really benefit from clicking on your ad.
▪ Conversion tracking -
In LinkedIn you can track conversions and set up goals to improve ROI.

Benefits:
▪ Ideal for B2B markets
If you have a niche business to business solution, LinkedIn is your best bet. It's users are part of many networks and looking for new jobs, information to better their careers etc.
▪ Easy ad creation
LinkedIn Display ads are like Adwords ads; headline and two lines of copy with a destination URL. Add a small thumbnail picture at the side to draw the eye and boost CTR.
▪ Quick campaign setup
LinkedIn Advertising allows you to create full campaigns from scratch, just by logging into your LinkedIn account.

So now you know the essentials of Display Advertising and how its wealth of features can benefit your individual business. For those who are completely new to Display Advertising, I would recommend trying Google Adwords first. However there is fantastic potential in expanding to the Display Networks of Facebook, YouTube and LinkedIn, to send your advertising exposure sky high.
Article by Laura Wootton