Which CRM Should I Use For My Business?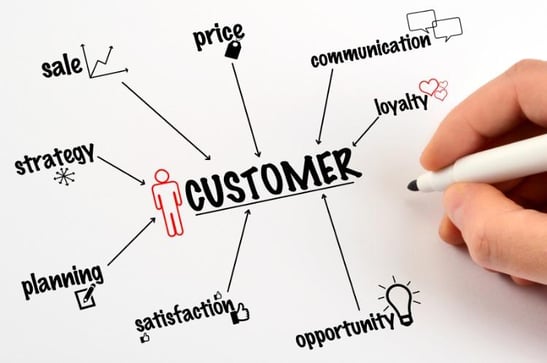 A customer relationship management (CRM) system is a highly useful marketing tool. When used properly, it can help you streamline your relationships with your customers, help plan your marketing and sales strategy and improve your businesses profitability. As a business looking to make the most out of your customer relationships, a CRM can be your best friend, helping you to target your business development efforts more effectively. Some systems come with additional functionality, allowing you to manage your workforce, suppliers and customer service functions, all from the same software package. The choice is extensive: whatever functionality you need, chances are that there is a CRM package out there which covers it. And if not, there are plenty of reputable software houses who specialise in building bespoke CRM systems.
Which CRM Should I Use? Questions to ask yourself
The million-dollar question is where to start. There are hundreds of different CRM packages available on the market. A simple Google search we conducted found 340 different software providers, each competing for your budget with an ostensibly similar product. These CRM packages vary widely in terms of price, accessibility and functions. Both positive and negative customer reviews can easily be found for all of them. So when faced with this overwhelming choice, what is the best way to narrow down the search to find the best CRM for your business?
In the section below we will briefly review seven CRM systems, which in our opinion are among the most reliable and offer the best value of all the programs currently available. To help you make your own choice, however, begin by asking yourself the following three questions. This will enable you to narrow the choice down considerably.
What budget do you have to spend on a CRM?
However much you have to spend, there will be a CRM provider eager to take your cash. Packages are available from as little as £10 a month to many hundreds. Search carefully and you are sure to find something within your budget. What is the nature of your business?
Different CRMs are developed with different industries in mind. Think about the nature of your own business and match this up to the functionality provided by the CRM. Many CRM's are developed for retail clients. For a service company marketing to other businesses, these sort of packages won't be ideal. Also, think about the structure of your company. Have you got a single office space, multiple depots, or a network of remote, home-based employees? Think about whether you need a CRM that is physically installed on your office computers, or a cloud based CRM that can be accessed anywhere.
What functionality do you need?
Each CRM package comes with a different range of functions. The general rule is the more features and app has, the more expensive it will be. The great thing about most modern CRMs is that they are available with different service levels, meaning you won't have to pay the functions you don't use. If in doubt it is worth starting yourself off on one of the lower monthly packages offered by the CRM provider. Most systems allow yourself to upgrade or downgrade your package whenever you need to.
7 Popular CRM systems
The following are our pick from just a few of the many Customer Relationship Management Systems available. Each has their strengths and weaknesses, so before making a purchase decision, research each application thoroughly and don't rely solely on the manufacturer's own website – find as many independent reviews as you can.
1) Hubspot
Hubspot is a powerful, sales focused CRM that is quick to pick up and comes with an impressive range of features. One of the traditional drawbacks of CRMs, and databases in general, is the amount of donkey work and data entry required to keep them up-to-date. Hubspot bypasses this by syncing seamlessly with the communication tools you already use, including email browsers, VOIP phones and social media. It then automatically logs calls the communication data onto your CRM, so you build up a detailed and comprehensive picture of sales efforts and customer relationships. This in itself is a powerful selling point for Hubspot. Other positive features include an easy access dashboard and an efficient mobile app. A usable but basic Hubspot package is available for free, with premium options available from £140 per month.
2) Salesforce
Salesforce is the world's most popular integrated CRM platform. If you are looking for an integrated approach to marketing, sales, customer service and analysis, these guys know the field and do it well. Prices start from £17 per user per month and go up to hundred and £200 per user per month for full functionality. Salesforce is an in-depth and highly customisable app that comes with a bit of a learning curve, but is well worth the investment in time.
3) Infusionsoft
Infusionsoft market their CRM on the strength of its simplicity and ease-of-use. As experts in Infusionsoft, we may be accused of being biased about this review, but our positive opinion is based on direct personal experience of the application. The app offers a straightforward, easy to pick up user interface and an impressive range of features. The focus of this CRM is lead generation and sales but it is also a powerful customer satisfaction tool. Infusionsoft is a great CRM for small businesses with a flexible approach to relationship building and an eye on expansion, and who do not have limitless hours to pour into learning how to use a complicated bit of software. Infusionsoft isn't the cheapest CRM on the market; packages start from $199 (£130) per month and increase to $599 (£390) per month. But in terms of value for money and 'bang for your buck', Infusionsoft is one of the best suites of features you will find in a CRM.
4) Zoho
If cross browser integration is important for your business, consider Zoho, an affordably priced, cloud based CRM aimed at small businesses. Zoho has all the features you'd expect from the 'big player' CRMs, without the price tag that usually goes with it. Paid packages will set you back only $12 - $35 (£7.80 - £23) per user per month, and your first 10 users are free. Zoho comes with native support for a wide selection of popular apps, including Facebook, Twitter, the Google suite and Microsoft outlook. It also comes with its own set of tools, including an email campaign manager, survey app, web mail browser and sales tracking software. For businesses with a moderate contact list and an integrated sales and marketing strategy, Zoho is worth a look. It is also highly 'modable', with a selection of optional add-ins available, making it a popular choice with developers.
5) TeamSupport
Developed with B2B customers in mind, TeamSupport is an intuitive, customer service driven CRM. If you have a large customer base or a dedicated customer service team or helpdesk, this may be the application for you. Although biased towards customer support, TeamSupport does successfully integrate the whole customer journey, allowing you to monitor your relationships from the marketing stage through to the sales and service stages. This is a cloud-based system with many of the features of their larger competitors. Packages are available from just $35 (£23) per user per month.
6) ZenDesk
Another CRM designed to help B2B customers with service and relationship management, ZenDesk is a simple, elegant app and a popular choice among small businesses. The software is cloud based and can be accessed from desktops or mobile devices, and integrates seamlessly with social media. As a relationship building tool, it is deceptively powerful, allowing you to personalise your customer communications and encourage increased engagement. ZenDesk also stands out as having a comprehensive knowledge base, reducing the learning curve when adopting this app.
7) Microsoft Dynamics CRM
No overview of popular CRMs could exclude Microsoft Dynamics, arguably the fastest growing and most powerful player on the market. As you may expect from Microsoft, Dynamics CRM comes with a huge range of functions and features, and takes a significant investment of time to unlock all its potential. However, once mastered, this is a very effective application, with both static and cloud-based functions. Microsoft Dynamics combines a sales database, customer service tool and marketing functions, with seamless integration with social media and other software platforms. If you already use one or more Microsoft products, such as Office 365, Windows Phone or Skype, then we recommend looking into this as an option. Prices start from £40.50 per user per month.
Conclusion
Investing in a CRM is an important decision that requires careful consideration and analysis of your own needs. Unless you have already decided on the application to use based on direct experience a recommendation, don't rush into a purchase. Most applications come with the option of a free trial or limited term membership, so 'try before you buy' if possible and don't commit yourself to a long-term financial outlay until you are completely sure. Many applications offer attractive discounts if you sign up at a higher tier or for a longer minimum term. If you already know and like the CRM then by all means take advantage of this, but if you are new to an application, don't be pressured into putting your money down. Once you have implemented a CRM for your business, swapping it over isn't a quick or easy process, so allow yourself the luxury of being a bit fussy. It is easy to make an expensive decision if you allow your heart to be ruled by the discounts available.
Don't feel you have to limit yourself to information available on the Internet either. If you want to know more about a particular application, make their sales team work for their money and give them a call to talk through the specific functions of their application and how they can be useful for your business.