A HubSpot Service Hub Review: 3 Great Use Cases/Case Studies

HubSpot's Service Hub Professional module can be a great addition to the right kind of business, but it often gets overlooked for its longer-standing hubs - sales and marketing. However, companies around the world are realising that sales, marketing, and service teams are all working towards the same objective - increasing company revenue.
Many companies are therefore deciding to unite the three teams under one umbrella - revenue operations. This allows all three teams to align and customers to have a smooth experience throughout their entire journey with a company.
The best way to achieve this kind of alignment is through combining a powerful CRM with a powerful customer service platform. HubSpot's Service Hub Professional module is therefore the ideal solution.

This review is going to look at three instances where we have recently implemented HubSpot Service Hub Professional in very different businesses, to achieve very different aims.
1) Automating After-Sales Servicing
The first use-case of Service Hub is using the power of its automation to smoothly manage a complex after-sales servicing process.

This client is an energy technology manufacturer who creates electrical hardware and software designed to improve the resilience of power supplies to sites, whilst also maintaining eco-friendly credentials.They deliver and install complex electrical equipment and 12 months after delivery, it is vital that the equipment is serviced. This is also a powerful revenue stream for this company, as the services come at an additional cost.

Prior to Service Hub, this company was managing this process manually through a spreadsheet, and each month they would have to check which projects were coming up to 12 months, and then remember to send several email reminders manually that servicing was due. This system was working, but it was easy for things to fall through the cracks. As the sales and marketing teams started to use HubSpot for their day-to-day work, the service team realised that they were missing a trick.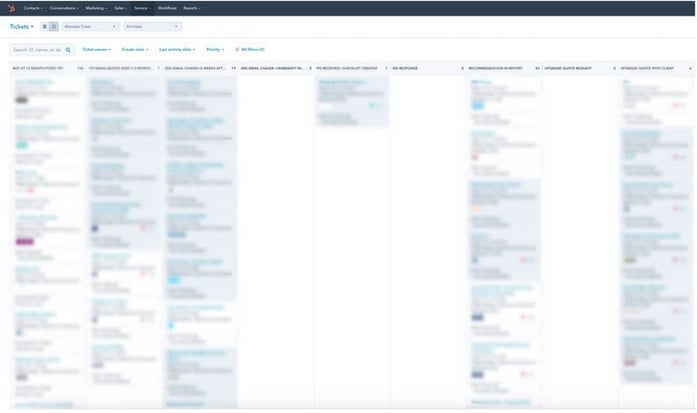 Through multiple ticket pipelines, and some advanced Service Hub automation, the service team now have a fully automated reminder system set up to let them know when services are due. Once a deal is completed and the project delivery date is input, a ticket is created with a reminder for 12 months time. At the 12 month mark, their lead team member will receive notifications that it is time to start the after-sales process. This is also set to repeat again, 11 months after the previously booked servicing date to ensure a system that will work for their lifetime customers. By introducing these systems into the business, they have saved hours of manual admin time, removed the potential for human error of missing a service date, and ultimately won more after-sale business because they are better able to manage this process and follow everything up effectively.
Additionally, they are using Service Hub in the more traditional way, to track faults and book engineer visits to site. This has streamlined this process, and meant that all parties involved have a constantly updating, single source of information when it comes to each project. This streamlining has hugely improved speed of communication between teams, meaning the time it takes to book a service is going to be reduced drastically, improving the customer experience. It also means that there is no potential for miscommunication of the details, each member of the team who is involved in the project can see the full history of what has happened right from initial enquiry. With a complex technical product, this is really key data that is going to help all technical teams as well as customer facing teams.
2) Bringing Together Revenue Operations Teams
This client is a large gift and homeware retailer who wanted to bring together their sales, marketing, and service teams around one central platform. The main reason for this is that all three teams are working towards the same ultimate goal, to generate revenue for the company. By combining the three teams around one system, they could coordinate their data, messaging, and automation.

Prior to Service Hub, this company was running a multi-rep customer service department with no ticketing system, just through a single shared Outlook inbox. As each rep picked up issues, they were moved into their personal inboxes to be dealt with. This meant that there was zero visibility for management on what the faults were, how they were being handled, and the speed of response to the customer. It also meant that if a rep was off sick or on leave, and a customer responded to a ticket, there would be no way for this to be picked up in their absence, leading to a subpar customer experience. Additionally, the service team had no access to sales or marketing data, meaning they were talking to customers blind, with no knowledge of what had previously happened. This meant that there were constantly 1:1 emails going between the three departments, trying to gather data around what had happened previously. It also meant that sometimes sales reps were approaching customers, not realising that the service team was currently dealing with a large challenge with them. This could easily have led to the souring of customer relationships inadvertently.
Implementing Service Hub for this team was a huge deal. It meant completely changing the way every member worked. The inbox was brought into the conversations tool within HubSpot and tickets were created for each new issue. These tickets were then assigned out amongst reps to be dealt with individually. There was reporting set up to manage SLAs (service level agreements) to track how long it was taking to respond to customers, and how long it was taking to resolve issues.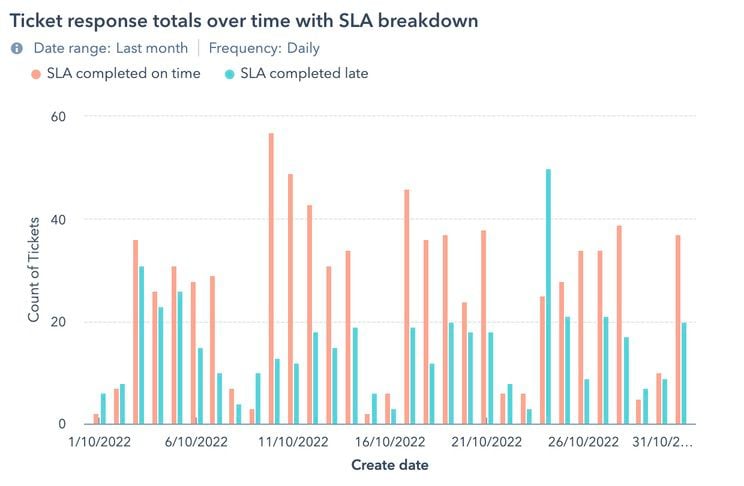 The customer service team are now also able to see the data that sales and marketing are inputting into the system independently, rather than waiting for a response from these teams. Having the data at their fingertips has saved countless hours of support time and enhanced the customer experience by reducing the time it takes the service team to solve problems for their customers. They are also not having to manually input any data, as everything is synced around a central point, this means that the customer service team now have the time to get through more tickets each day, which in turn allows the business to effectively scale up its operations. The data sync also avoids all the potential challenges where the service or sales team were working blind without the knowledge from each other. Every customer-facing rep can now see the exact journey each customer has been on, and tailor what they are doing accordingly. Additionally, the management team now have full visibility of every single ticket. This means that common issues can be picked up on, and teams can have their progress monitored much more accurately resulting in a much happier workforce, as well as happier customers. Customers can now contact this company and no matter who they speak to their issue can be picked up from where it was left without the need to go through the entire process again or wait for various reps to communicate internally about where it was left. Happier customers lead to repeat purchases, and this is definitely what this company is now seeing.
By bringing together the revenue operations teams under one central platform, the data and messaging between teams was synchronised. This means that the overall customer experience has been improved, and productivity levels for all three teams have massively improved.
3) Fully Automated Ticketing System
The final use-case for now is going to take a look at a fully automated ticketing system that was implemented by a logistics software company specialising in temperature controlled loads. This client had a team of 27 and was running everything from a shared inbox, with no real system in place to track issues through to completion. Due to the nature of their business, they had hundreds of requests for support each day, as hauliers and shippers contacted them to discuss jobs. The process they were using was to manage all of this from one central gmail inbox, with all the reps logging in and responding within there to each challenge as it arose. This meant that there was easily a danger of vital issues being missed, as there was no ticketing in place to ensure each issue was tracked through to completion. This meant the customer experience was nowhere near as good as it could have been. Because everything was run from one central inbox as well, there was no way of separating out different workstreams according to which reps and teams would need to deal with the issue, or how urgent issues were. Everything was grouped in together in one huge inbox. This meant that customers' most pressing issues were not prioritised, and problems took longer to deal with because they had to slowly make theirway through to the right rep to handle it. Additionally, management had no visibility on the reps' productivity, and therefore could not resource plan accordingly. They weren't aware of how many emails were being sent each day, or of how long it was taking on average to resolve customers' challenges. This meant that they did not really have any idea of the level of effort needed to maintain the current levels of customer service, they suspected, though, that it was taking up a large amount of time and therefore costing the business money. This client needed a system that was going to save time and allow them to scale without compromising on great customer service. Automation was a key part of getting this done.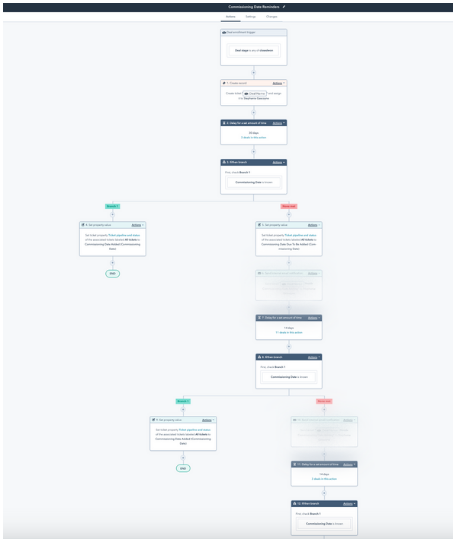 To complete this, the inbox was connected to the Conversations tool within Service Hub, and set up to automatically create a ticket in a "triage" pipeline for every single email received. The power of automation then automatically filtered specific tickets, based on a set of custom filters, into a new pipeline to be worked on by individual reps. The remaining tickets were moved manually by management to different pipelines, depending on the nature of the request. This meant that the most important tickets were being dealt with on the highest priority, and that the right reps were getting the right tickets that they were able to handle. This was improving the customer journey by enormously reducing the time taken to resolve each individual request.
Once in the various pipelines, the volume of tickets meant that they needed a clear way to prioritise which tickets were being actively worked on, as each rep would be handling many tickets at a time. The automation was therefore further used to ensure that tickets would bounce between "waiting on us" and "waiting on them" depending on who had sent the last email. This meant that the reps could focus their attention just on the tickets that needed their attention. This helped to increase productivity for individual reps, and increased accuracy, as tickets wouldn't be sat in the joint inbox waiting for a response any more. This improved customer satisfaction dramatically, by once again speeding up the time it took to resolve each request.

There was also powerful custom reporting set up for this client, focussing on volume of tickets, time to first response, and time to close. This means that the management team now has full visibility, broken down by individual rep, on how much effort is required to maintain their current levels of customer service. They are able to plan for the future now as they have detailed data over a period of time, allowing them to understand what resource will be needed to handle customer service as the business continues to grow.
The powerful automation within Service Hub allowed this client to create a fully customised and automatic process for managing each request, meaning that they could spend less time on admin and more time solving for the customer. Meanwhile, the reporting meant they could future proof their customer service team and get the full picture of what was happening in this department of their business.
What's Next?
These are just three of the ways that HubSpot Service Hub can help your business to scale from handling customer challenges individually, to handling them with a team of dedicated representatives. Ultimately, the customer service your business provides is the lasting impression a customer will have of you. Creating a smooth, delightful customer experience will mean they keep coming back for more, as well as recommending you elsewhere. In order to do this, it is vital to have the right systems in place. If you need help getting your customer service team started with automation, tickets, and reporting then get in touch with JDR today.
Help With HubSpot
JDR Group are a Diamond HubSpot Partner, based in the UK. We've been working with HubSpot for more than 10 years now, and can help you in a number of ways, including:
If you'd like to see how HubSpot can work for you, we offer a tailored demo for you at no cost: click here to book a FREE HubSpot Demo.