Inbound Marketing, Online Advertising & SEO: JDR's One Day Marketing Workshop

The JDR Group have once again joined together to host a One Day Marketing Workshop open to all our clients. The latest took place on Thursday 5th June at the Leicester Marriott Hotel.
This is a key event we regularly host for our clients. We want to give our clients a better understanding of a range of topics including online marketing, marketing trends, tactics and techniques. This allowed our clients to get away from their busy working environment to spend a day with four internet marketing experts to help work on their business marketing strategy, meet other business owners and spend time working ON their businesses (and not just IN them).
How is this digital marketing workshop unique? The internet marketing experts from JDR provided clients with an overview of a range of marketing topics. There were additionally exercises for clients throughout the day to practice the skills that they had developed, and they had the opportunity to ask questions throughout the workshop to help apply what they were learning to their specific businesses.
And best of all, this is an event which JDR do not charge for, other than the hotel delegate rate (for lunch and refreshments).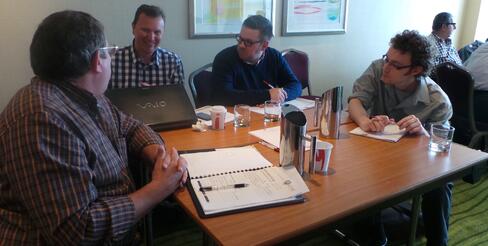 How did the workshop begin?
David Roberts, Managing Director and Business Coach at the JDR Group launched the day. David began by explaining the importance of defining your target markets. It is common for business owners to think they have a clear understanding of their target, when in fact they could actually find out a lot more about their potential customer characteristics.
Content Marketing and Optimising your Website
He then handed over to Operations Director Leanne Mordue whose talk was called 'Google in 2014 & The Future Of SEO'.
The focus was that original, unique and interesting content is the key to success. Leanne gave several different content creation ideas and techniques to develop a following and create enquiries.
As well as content it is important for businesses to understand how their website can be optimised. The key techniques covered in the workshop involved Google's Penguin and Panda updates. These Google updates impact on your website rankings in search engines. Those businesses who do not stick to Google's webmaster rules will be penalised. Leanne explained the most recent update for Panda 4.0 and Hummingbird updates. This will affect those businesses who do not meet with Google's webmaster regulations.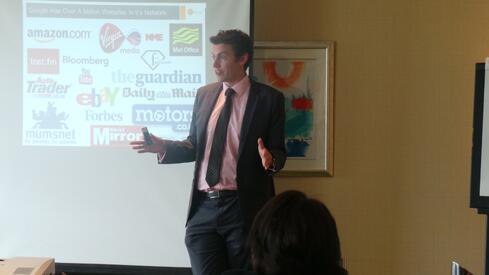 Will Williamson Explains the benefits of the Google Display Network
The Advantages of Paid Advertising
The key elements about paid advertising were then explained to our clients by Will Williamson, Sales Director from the JDR Group. This involved Google Adwords advertising and the key benefits of paid advertising. What are some of the main benefits?
Some of the common misconceptions about Google Adwords advertising were also revealed. One of these misconceptions being that you need to spend a lot of money each month to have an effective Adwords campaign!
The Power of Display Advertising
Will Williamson then focused on explaining the key aspects of Display advertising involving the different adverts businesses could launch on websites. Google display advertising strategies were also highlighted and how you could promote these through Google's Display Network. Find out more about display advertising through your Business Owner's Guide.
Social Media Marketing
Will Williamson then continued by explaining about inbound marketing and the different strategies you can use to attract new customers at differing sales stages. This is when businesses are less familiar with your products and when they are more familiar at other stages. Read more about the different stages of Inbound Marketing.
It was then explained about how your clients could create and utilise their social media profiles including Facebook, Twitter, LinkedIn, Google+ and Youtube. Additionally we explained how you can use Facebook and LinkedIn advertising to promote your business further.
Important topics covered included how to share on social media profiles and sharing other people's content, how to promote your content and reach your target markets. Read 6 easy marketing tips to increase social media engagement to find out more for your business.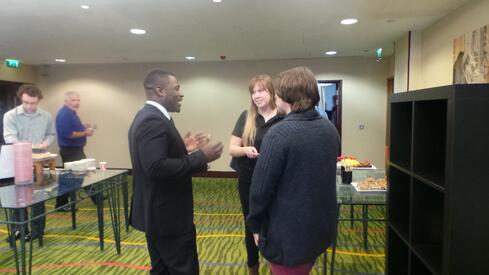 SEO Account Manager Daniel Baker with clients
Highlights at the end of the Workshop
David Roberts, Managing Director and Business Coach at the JDR Group summarised the key marketing skills our clients had learnt throughout the day. David explained how our clients can implement these strategies and gain new enquiries and sales. He additionally gave our clients 6 tips to make marketing successful for their businesses.
We are looking forward to our next client workshop in October 2014!
You can download a copy of the slides from the event here
"Once again we were delighted to host our latest One Day Marketing Workshop, and are grateful to all that came and made it such a good day. I think they provide a fantastic opportunity for anyone that is serious about promoting their business online and are a unique part of our service as a Digital Marketing Agency. I am already looking forward to the next one!"
Will Williamson
Thanks to everyone that came to the @JDRWebsites One Day Marketing Workshop today, it was a great day!

— Will Williamson (@WillatJDR) June 5, 2014
Excellent meeting with the @JDRWebsites group yesterday, lots to do now though

— Amina Technologies (@amina_speakers) June 6, 2014
Brilliant workshop yesterday with @JDRWebsites they really know their stuff! Now to apply what we learnt to http://t.co/9FrSfjSRUC #website

— Euro Oils Ltd (@EUROOILS) June 6, 2014
.@LeanneatJDR @WillatDR @DavidatJDR excellent seminar thanks! http://t.co/SXZvFR3rjb #Meissen @ #Chatsworth House pic.twitter.com/8L9CsQAni7

— RMJ Antiques (@RMJAntiques) June 6, 2014