SEO Explained In Simple Terms – An Essential Guide For Beginners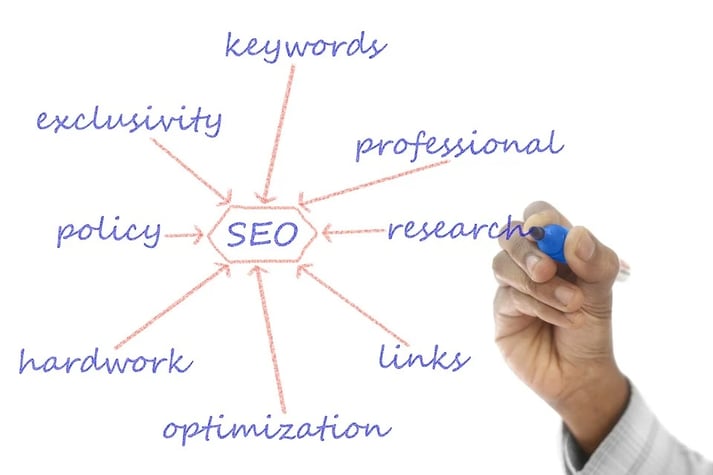 When you're trying to find ways to market your products or services, you'll come across the terms "search engine optimisation" and "SEO". This specialist area of digital marketing encompasses both technical and creative tactics.
So, what exactly is SEO, and how does it work?

SEO defined in fewer than 90 words
Search engine optimisation (SEO) is range of techniques used to improve a website's position in the organic (i.e. the non-paid) search engine results pages (SERPs) for specific keywords. The SERP is the list of sites that appears in response to a search query on a search engine. SEO experts do this by 'optimising' a website's content and technical elements to appeal to search engines, and encouraging other reputable sites to link to its pages.
How Does SEO Work?
Search engines regularly send out bots (also known as search engine spiders) to trawl through websites. These collect information about the quality of these sites and their relevance for users searching for specific words and phrases.
The search engines utilise this data to organise the results that they return when searches are performed. While they don't publish official lists of the criteria used, we do know that they look for well-built, authoritative, and content-rich websites that meet visitors' needs.
Not only do they assess the site itself, they consider aspects such as the amount of time visitors spend there and the number of high-quality websites that link to it.
Why Is SEO Important For Businesses?
Optimising your site with the search engines' requirements in mind will improve its ranking within the SERPs – and that means more people will be able to find it. Ideally, your website should appear on the first page of results for the keywords potential customers use when searching for the types of product or service you provide.
In general, the further up the rankings you can get your site, the more leads and sales you're likely to attract.
Types Of Search Engine Optimisation
SEO specialists employ several strategies when carrying out their work. These fall into three main categories:
On-Page SEO
This refers to the process of ensuring that the content on your website is search engine-friendly. Your SEO consultant will consider factors such as:
Whether the content will improve the chances of your site ranking well for relevant keywords;
Whether your content is laid out in the most appropriate way.
Technical SEO
This is a specialist area of on-page SEO and involves ensuring that the technical aspects of your website are functioning optimally. An SEO expert will check that your website:
Loads quickly enough;
Features correct HTML;
Can be navigated easily;
Does not include broken links;
Includes appropriate metadata (the information that search engine spiders read).
Off-Page SEO
This refers to the work you do to improve your position in the SERPs away from your site. This can include tactics such as:
Promoting your content via social media;
Working with relevant influencers;
Encouraging high-quality websites to create links to your site;
Engaging in guest blogging activities.
What Next?
To discover more about SEO and how it could help you maximise sales, contact JDR.
We can help you formulate a winning SEO strategy and put it into practice.
Image source: Pixabay