JDR Group Claim 'Google Partner Specialist' - A New Advanced AdWords Accreditation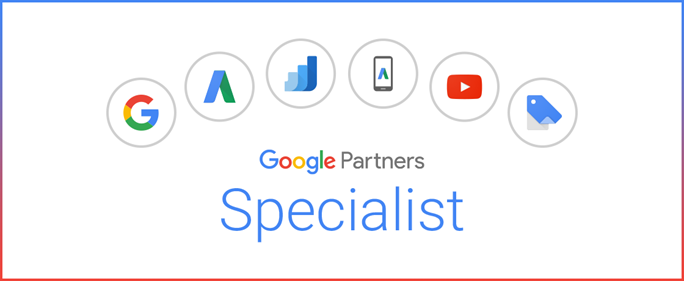 As an existing Google Partner, we have the opportunity to be able to claim new accreditations and we're proud to announce we have passed the 'Google Partner Specialist' Accreditation.
Google invited businesses across the UK and Ireland, who are Google Partners, to take part in a specialist challenge. Google brought out this challenge to get everyone into the competitive spirit and to show who the real AdWords experts are. The challenge consisted of 6 exam sections which all had to be passed to show expertise and knowledge. These exam sections were in the following subjects:
AdWords Fundamentals – This section was about how to create effective overall AdWords Campaigns.
Search Advertising – This section included the best methods of controlling all the aspects of a Search Ad Campaign.
Mobile Advertising – This section was about how to format, target and measure effective mobile advertising campaigns.
Video Advertising – This section covered creating and managing video advertising campaigns.
Display Advertising – This section was all about Display Advertising and what the best ways are to manage and measure display campaigns within Google AdWords.
Shopping Advertising – This section was in regards to shopping campaigns and the Google Merchant Centre. This tested the knowledge of the merchant centre along with data product feeds.
Since becoming a Google Partner back in 2014 we have worked on a vast amount of Google AdWords campaigns. We have helped clients reach new heights with their conversions as well as reducing spend along the way. This latest Google Accreditation just shows the expertise and knowledge we have as a business when it comes to Google AdWords campaign management.
The benefit to you of working with a Google accredited and certified partner is that you can be secure in the knowledge that your campaigns are being run with the utmost efficiency. Meaning that you will be getting more value for money out of each Advert placement and click! After all, the most important factor in any paid advertising venture is ROI.
We have been running Google Adwords campaigns on behalf of our clients for years and have published numerous articles on the subject. Here is an interesting read about the 3 most common mistakes businesses make when using Adwords which causes them to loose money in the process…
3 Costly Google AdWords Mistakes You Need To Avoid!
If you need assistance with your existing Google AdWords Campaign or if you're looking for a PPC or Search Marketing agency to work with, talk to an expert today, or give us a call today on 01332 343 281. Google AdWords is a powerful way of boosting your website sales and enquiries.