4 Things To LOVE About HubSpot This Valentines Day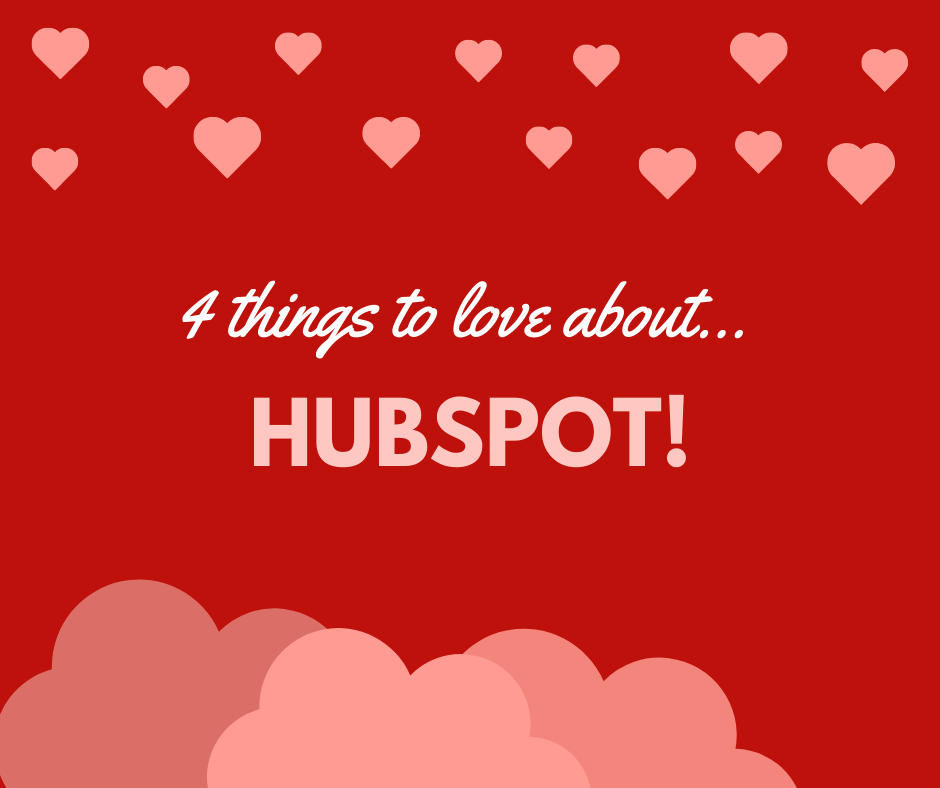 With so many tools to offer businesses to help them make sales, it's always a good day to fall in love with HubSpot, and as it's Valentines Day, here are four extra reasons to get weak at the knees over the world's leading and fastest growing marketing automation platform.
1) HubSpot Analytics
Analytics isn't so much an add-on tool in HubSpot; rather, analytics and reporting is built into every feature of the platform. Every aspect of HubSpot gives you access to a wide range of detailed and customisable reports, graphs, and metrics. Whether you want to monitor your web traffic to specific landing pages or YouTube videos, review your best performing email marketing campaigns, or track your social shares for popular blog articles, real-time custom analytics are available whenever you need them.
Why we love HubSpot analytics:
Makes it quick and easy to measure your marketing ROI

Create customisable detailed reports for different channels

Gives you a full overview of your sales and marketing funnel, tracing leads from initial enquiry to first purchase and beyond

Easy and intuitive user interface

Access visual data through your HubSpot dashboard on any device

Export data, graphs, reports, and charts into a variety of file formats
2) Social Media Tools
HubSpot is one of the best social media content marketing and automation platforms, with a suite of powerful tools to help you manage your social media outreach on different platforms and measure your results from individual content assets and campaigns. HubSpot allows you to create social media publishing schedules, with custom content for each platform, and review your engagement for each post.
HubSpot is compatible with all social media platforms, including LinkedIn, Instagram, Twitter, and Facebook – and Marketing Hub Enterprise customers can link their HubSpot dashboard with up to 60 individual social media accounts for auto publishing, scheduling, and analytics. All customer touch points and conversations on social media can be auto-uploaded into your HubSpot CRM.
Why we love HubSpot social media:
Create and publish multi-channel social media campaigns directly from HubSpot

Track your likes, shares, and social media engagement for each post, advert, and blog

Measure the effectiveness of your social media marketing assets and content

Integrate social media with your other digital marketing channels

Build detailed reports that give you real-time visibility over your social media ROI
3) Website Building Tools
HubSpot makes it easy for businesses to build and manage their websites, publishing and updating fresh web content, building custom landing pages for important keywords, publishing blog articles, providing gated incentive content, and much more. With dozens of stylish customisable templates to work with, HubSpot takes the pain and technical headaches out of managing a business website. Publish branded, stylish, mobile-responsive webpages online in minutes – without having to know a scrap of code. What's not to love?
Why we love HubSpot's website tools:
Easy-to-use code-free webpage builder – copy whole sections you like and paste them onto another page

Responsive web design looks great on any screen size, device, and operating system

Optimise images and videos for fast loading

'Clean' HTML and CSS makes it easy for Google bots to find, scan, and rank your site

Write, upload, and update web content from your user dashboard

Analytics tracking – monitor the performance of all your online assets

Built-in security

Customisable contact/lead generation forms integrated with your CRM and email marketing tools

Inbuilt SEO tools to boost your online profile
4) Search Engine Optimisation (SEO) Features
SEO is important for getting your business noticed online for important keywords and search phrases your customers are using, ensuring you are visible on Google Page One where it matters. Many websites rank poorly because of technical on-page issues, such as 'dead links', '301 redirects', incorrect meta tags, slow loading times, duplicate content, or a host of other problems most people have no idea about.
HubSpot has inbuilt SEO tools that help gear up your new webpages to succeed from day one, avoiding the common pitfalls. The platform also provides you with practical strategies for optimising your website for better rankings, showing you which actions to take, how to implement them, and how each change could boost your performance.
Why we love HubSpot's SEO tools:
Everything you need for on-page SEO in one place – meta descriptions, URL management, keyword optimisation, alt text etc

Easy to use SEO tools with no technical knowledge required, all accessible from your dashboard

SERP (Search Engine Results Page) monitoring for customisable keywords

Boost the performance of related webpages by organising them into topic clusters with strong search engine associations to help customers find your content

Social media, content marketing, and PPC advertising integration
Make a date with HubSpot this Valentines Day
These tools and features are just a few of the reasons why hundreds of businesses fall in love with HubSpot every day. We should know. As HubSpot Diamond Certified Agency Partners, at JDR we've seen how using HubSpot can help businesses supercharge their website and online marketing, get more leads and make more sales – using proven tools to achieve consistent results.
To find out more, give our inbound marketing team a call today on 01332 343281, and discover more reasons to fall in love with HubSpot in 2022.
Image Source: