Why Is Video Marketing So Effective For B2B Businesses in 2017?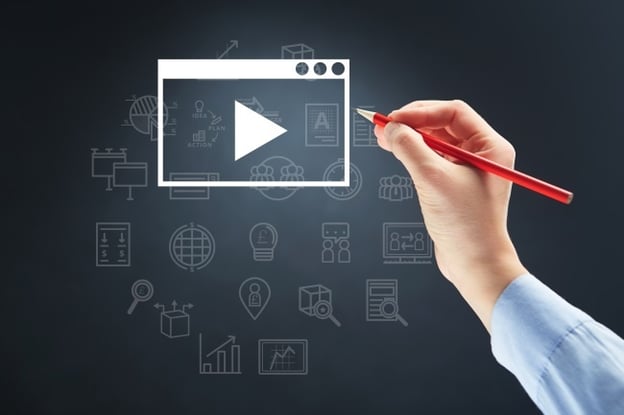 Video marketing has been growing in popularity for quite some time. However in 2017 the platform is set to reach new highs. When done right, a video allows the user an immersive experience, granting the ability to actively showcase your product or service rather than just explain it. As humans, our ability to process images quicker than text also adds to the merit of video as a premier marketing platform. Body language, tone and attitude all allow the viewer to build a personal connection with your brand. The benefits to trust and likeability are undeniable. Here we are taking a look at why video marketing is so effective for B2B businesses in 2017.
Video Watching Comprises One-Third of All Online Activity
Not only does video watching make up one-third of all online activity across the board, but according to Forbes, 59% of all executives prefer watching a video over reading text. This indicates a massive market to capitalise on. Forbes also reports that 50% of executives will seek further information on a product or service, after being exposed to a video. If you want your brand to be noticed, you have to make the transition to well-targeted video marketing.
Live Streaming is on A Rapid Rise
Live streaming is bigger than ever and this is just the tip of the iceberg. When Facebook Live first launched, savvy marketers began forming followings tallying hundreds of thousands of viewers. To further strengthen the popularity and viability of their platform, in 2016 Facebook invested £40 million ($50 million) into global video creation partnerships with large media houses, celebrities and performers. With 1.65 billion monthly users worldwide, the social network had to ensure that its live streaming service had more than enough content to keep viewers glued to their screens. Businesses have been quick to catch on to the new trend, with the volume of B2B-focused content expanding rapidly on all video platforms. 2017 will see an explosion of interest in live streaming services like Facebook Live, Livestream, Upstream, Twitter Periscope and the newly released Instagram Live Video.
Reach Out To Young Entrepreneurs & Startups
Certain video marketing platforms enable B2B marketers to better reach decision makers in their 20s and 30s, such as graduate Directors and Start-up owners. For example, the Twitter-owned Periscope has proven a powerful tool among younger users. With 50% of all Periscope users falling between the age of 16 and 24, it is clear that this is a tool to turn to when seeking to address the rising generation of managers and business owners. Social media is used by business people of all ages, yet a recent trend has been the influx of younger viewers to live streaming platforms.
Improve Search Engine Rankings
When you establish a presence on networks such as YouTube, you not only reap the benefits of exposure to a whole new audience, but you also steadily improve your search engine rankings. Through diversifying your marketing strategy to include a YouTube channel, you can manage your metrics with the help of YouTube Insights and Google Analytics. When posting a video, always evaluate the search terms that viewers use to find your video and include relevant tags. The merging of conventional SEO and video marketing is a practice that is currently far underutilised by B2B marketers, leaving huge opportunities awaiting discovery.
Video Improves The Effectiveness of Other Marketing Tactics
Regardless of which platform you are using, your business should always consider including video as a part of its marketing strategy. Videos are so popular that simply including the word 'video' in an email subject line increases open rates by up to 20%. If you have a strategy which is already working, then video content should be used to enrich your current success. However, if you are looking for a new marketing approach, then video is among your best options for 2017.
Landing Page Videos Are Extremely Successful
Landing page videos give you the opportunity to capture the attention of you visitor immediately. The first eight seconds of your video are critical, as attention spans grow shorter and cynicism is on the rise. Yet well-produced landing page videos have shown to increase conversions by up to 80%. The same study shows that 88% of all visitors will stay longer on a site which displays a prominent video. With buyer confidence lifting as high as 52% due to the influence of a video landing page, and buyers being 64% more likely to make a purchase, you cannot afford to ignore the impact of video-based landing pages.
Videos Establish Trust
Between 80% and 95% of all internet users make purchasing decisions based on online reviews, while 70% of B2B buyers and researchers use videos as a resource to guide their purchase. Video marketing is among the best ways to convey your brand's personality and vision, while establishing a great deal of trust, quickly. Explainer videos, product overviews and industry discussions give your customers the opportunity to assess your brand on an inter-personal level.
Video Within Search Engine Result Pages
Many giants of search traffic are beginning to put faith into the idea of adding video ads to search engine result pages. While Google's video thumbnails are rumoured to be quite some time away, Bing already supplies "Rich Ads". This form of advertising allows marketers to engage their prospective customers directly on the search engine results page, by displaying video content instead of text-only ads. It is only a matter of time before video becomes the marketing channel of choice throughout all channels.
Social Media & Video Marketing Go Hand in Hand
If you are looking to increase your marketing success on any social network, then you need to begin including more video content. A commercial study from 2014 showed Native Facebook videos having a 135% better reach than photos, while 82% of all Twitter users use the network to watch videos. Social networks are most commonly accessed on mobile devices, making short, informative videos more important than ever.
2017 is The Year of Video
B2B businesses need to capitalise on the growth of video marketing in 2017. With social platforms being used on more mobile devices than desktops, decision makers want effortless access to information. Video marketing allows you to capture the attention of your audience quickly, and with a bit of keen design and careful planning, your conversions will turn over in record time. At JDR, we specialise in developing strategies for you to reap the best reward from your video marketing. A partnership with an industry specialist relieves you of the burden of all the technical marketing tasks, freeing up time for you to focus on what matters to your business.