Google Ditch Right Hand Side Ads! Are You Prepared For The Aftermath?

Google have recently updated the way they display their adverts in the Search Engine Results Pages by ditching their right hand side ads. Are you aware of this update and what it is about? Do you know the impact it could have on your Google Advertising and potentially your bottom line?
If not, continue reading the article below to find out what the update is, what it means for you and what you can do about it.
What Is The Update?
Okay, so if you are a savvy PPC marketer and check your AdWords campaigns every day then you will most likely have seen this update in action. However, if you are a business owner who doesn't check their campaigns and ads as much, then you may not be aware of what has happened. Basically, Google have removed the right hand side ads for the vast majority of searches. Along with this they have added an extra ad to the top 3 ads. This update means that 4 ads now show at the top, no ads show at the right hand side and a couple of ads show at the bottom of the results page, below the organic listings.
The below is a screenshot for the search term "plumbers Derby"...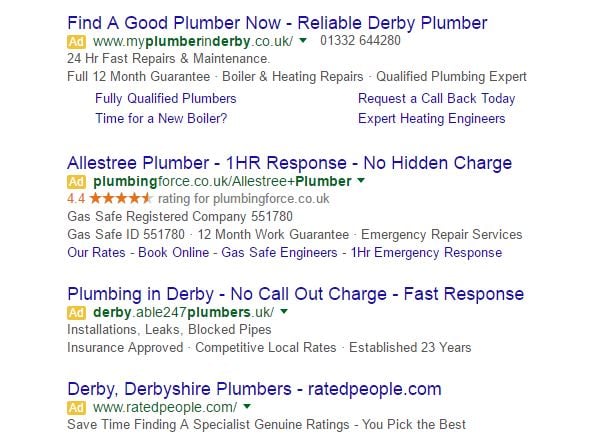 These are the four ads now at the top of the results page. Then there are 3 map listings, then organic results and no right hand side ads.
This update means less advertising space on the first page of Google, which means competition will be higher and average cost per clicks are going to rise. I myself have already noticed some big differences in the average cost per click of keywords and I'm sure there is more to come!
What This Means For Your Business
If you are using Google AdWords as part of your strategy then it is going to mean a few things.
1) If your average position was above 4, then you will now be right at the bottom of the search results page, instead of on the right hand side. This is going to result in much less clicks.
2) If you want to appear in the top 4 positions you will have to pay more per click. Meaning the overall cost of your campaigns will increase, as will the average cost per conversion.
3) Impressions will likely be less.
It isn't all bad
Most Google AdWords specialists will agree that being in the top spots attracts more clicks and can increase conversions. There are also a number of things that the top ads allow that the sidebar ads didn't. These include the ability to be able to...
Use all ad extensions, allowing you to take up more space on the page and thus stand out more than your competition.
Make use of extended headlines. This is where the first description line is formatted with the same emphasis as the headline.
Have the Display URL show in the headline.
Have description lines 1 and 2 show as a complete sentence. Creating more emphasis.
Top Tip: Make sure you are in the top 4 spots on Google AdWords and utilise as many of the above points as you can to get the most out of them.
More About Making The Most Of The Top Spots
Ad Extensions
There are a number of Ad Extensions available inside Google AdWords that can be utilised in the top spots. These will help you to take up more space on the page and stand out from your competition – resulting in more clicks to your landing page. The Ad Extensions you can use include:
Site Link Extensions: You can add a number of links to your website with these, i.e. About us, Testimonials, Contact us and Home.
Call Out Extensions: Call outs are little points that appear below the ad to help you stand out. You can use hooks like, 20 Years Experience, Free Quote, 100% Guaranteed etc.
Call Extensions: With call extensions I would recommend adding both a desktop and mobile extension to each of your ads to offer people the option to call instead of clicking on the ad.
Location Extensions: This is linked from Google + and it pulls your business location in towards the bottom of the ad, helping you stand out even further.
Ratings and Reviews: If you can get trusted ratings and reviews from places like Trustpilot then you are able to get a star rating to show next to your ad. This can have a great impact on click through rates and conversions.
There are a few more Ad Extensions that you can include to help your ads at the top stand out more, but the 5 I have mentioned above are some of the main ones to help you boost click through rates and make the most from your top positions.
Making Up For Lost Traffic
Due to the update you will likely see a loss of impressions overall, as well as traffic. To make up for this it is a good idea to utilise other traffic sources and forms of advertising such as the Display Network, Twitter Advertising and Facebook Advertising. These extra sources will help make up for lost impressions and traffic, to help ensure your conversions aren't affected too much.
Conclusion
All in all, the new update is going to have quite a big impact on impressions and cost but you can make the most of the top spots and use some of the other tactics I have mentioned to make up for your lost traffic. The main benefactors of the new update are definitely going to be other advertising platforms like Facebook and Twitter.