DIGITAL MARKETING IN NEWARK & SURROUNDING AREAS
JDR are a full service digital marketing agency providing digital marketing for businesses in Newark and throughout the surrounding areas - including Southwell, Collingham, Long Bennington.
Our digital marketing services in Newark include:
Case Studies & Example Results
Here are a few example case studies & example results - too see more go to our Case Studies page or watch this video.
This case study is from the professional services sector - a small, specialist firm of consultants. The background of the business was a group of partners that had performed a management buyout a few years ago - and while they are subject matter experts, they are not experts in sales and marketing and had no method (other than word of mouth) of winning new accounts.
This case study comes from a specialist machine manufacturer who sell products worldwide and wanted to improve their digital/online presence, to compliment the sales they achieve through trade shows/exhibitions. They have a technical product, which involves a large capital investment from customers, so there is a long sales cycle. We have been working with them since June 2016 to develop their marketing... this is their story.
This client is a manufacturer who sell via resellers and to trade customers, but decided to open up an E-commerce website in 2013 to allow them to sell direct to the general public. The new website provided a useful source of additional leads as well as sales with better margins and better cash flow, but did not take off so after a frustrating experience with a previous marketing agency, they decided to start working with JDR in 2017.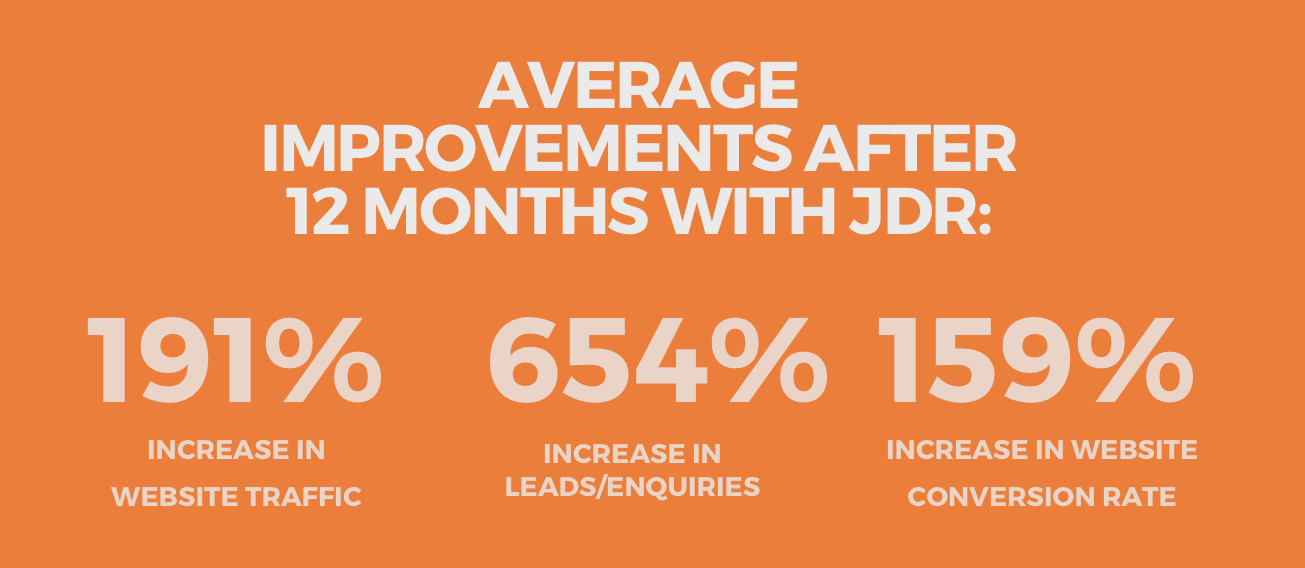 Over the course of 14 years we have worked on hundreds, even thousands of marketing campaigns - ranging from traditional outbound campaigns (telemarketing, direct mail, events etc) to modern inbound techniques (SEO, content, social media etc). In the past two years we have developed something which goes beyond a campaign, or individual marketing tactics - we've developed an entire system for sales and marketing that helps businesses grow.
When people are considering working with us, the main question is 'what results can I expect?'
In the marketing industry, false hopes are a problem - marketing agencies often over promise, which leads to customers becoming disappointed and even disillusioned with marketing as a whole.
At JDR, we try to paint a realistic picture and also to avoid making specific forecasts - but we can share examples of other clients' results. We do this through our marketing case studies, but in this article we can share the average results that our customers get - and even track these results over a three year period.