Inbound Marketing For SAAS Company [Case Study] - How This SAAS Platform Tripled Lead Generation & Generated £1.8m In Inbound Sales Pipeline

This is the case study of a niche, cloud-based platform in the financial sector. It is one of a small portfolio of software and consultancy businesses run by the directors.
Their website was already generating a few leads each month, but since working with us those leads have tripled, brand awareness has grown, and the marketing has generated more than £1.8m in sales pipeline. Along the way, their business has benefitted in many other ways, and working with JDR has also allowed them to focus on their core strengths as directors.
Moving From In-House To Agency
When we first met this client, they were managing their own marketing. They had built their own website using a WordPress theme, ran their own Google Ads, and they published occasional articles on their blog and LinkedIn.
While this was generating some business (they were averaging 5 new inbound leads a month), they recognised that it was inconsistent and ad hoc.
Our first step was to complete a full analysis of their marketing and their current website and we produced a full marketing report detailing all the issues we found:
There was no marketing strategy - no SEO/keyword strategy, no content strategy and no website conversion strategy.
There was no way of measuring marketing results - they were using Salesforce plus various other online tools linked together via Zapier, but the source of each and every lead was not being tracked.
The website was slow to load and required modernisation.
The blog articles were written with genuine expertise and insight - but were only occasional, there was no consistent publishing.
Their SEO was reasonable, as a niche product they already had some page one rankings despite little time or expertise being invested in it.
They had a Google Ads account which was being run in-house, with very little experience/know-how. Our audit of the account showed lots of irrelevant traffic, wasted budget and important advertising features being underused.
Here were their marketing audit scores: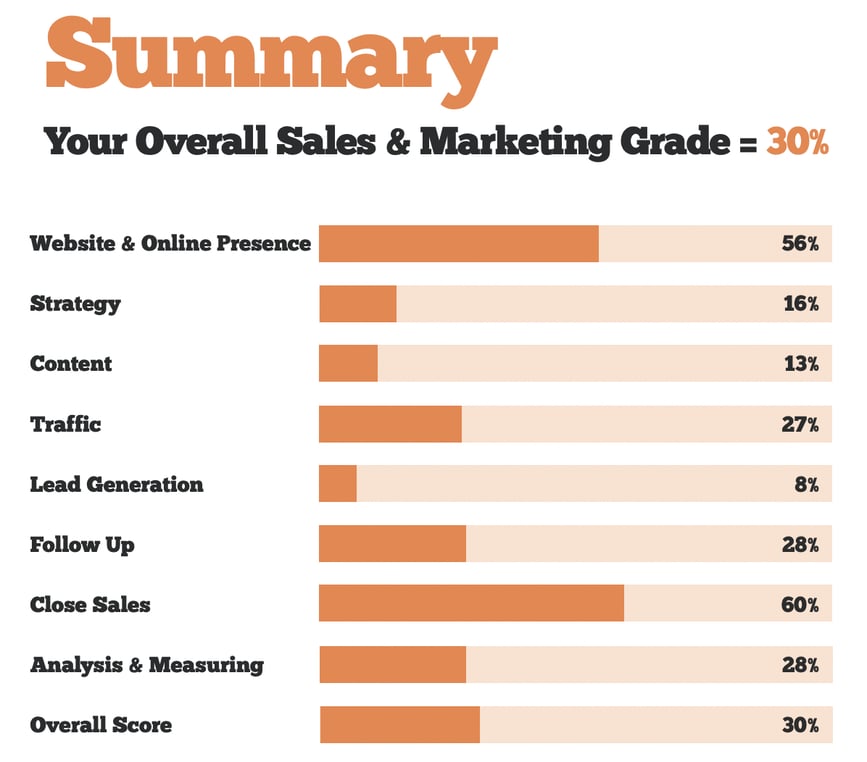 A 'Done For You' Marketing Programme
Following on from this report, we put together a tailored marketing programme for them. Our role was to implement a more comprehensive inbound marketing programme which would ensure consistent marketing activity, and with expertise. The programme included:
£1.8m Inbound Sales Pipeline Generated
As of the time of writing, there have been more than 90 deals/opportunities generated from inbound leads, with a total sales pipeline value of £1.8m. With new leads and opportunities coming in all the time, and deals moving through the pipeline, the ROI is building very nicely.
There are also lots of other benefits from the marketing beyond the sales opportunities generated, with increased brand awareness and better measurability of both sales and marketing.
Growing Brand Awareness: Brand Searches Triple

Brand searches (people searching Google for the company name) which were previously static, started increasing soon after we began our campaign in 2019. They have since tripled, and are continuing to grow. This is a signal of growing brand awareness as a result of the virtuous circle of marketing success and sales results working together.
Website Traffic Growing Continuously
Visitors to the website (excluding visitors from paid ads which have fluctuated with ad budgets) have been building consistently. Visitor levels, as you can see from the graph above, have increased from under 1,000 visits per month to nearly double that. This is as a result of the consistent content creation, but also due to the improved SEO results.
SEO Progress - Page One Rankings For Key Terms

Despite a decent starting point, there has been a 5x increase in organic traffic since the start of the marketing programme. Our SEO analysis shows that they now have 522 keywords found in the top 100 results, and are now #1 for their target/priority keywords. Many of these results also include featured snippets, so that they now really dominate their target search engine results pages.
Inbound Leads Have Tripled

As you can see, the number of leads generated each month has continued to grow and build over time with leads coming from multiple sources - Google Ads, SEO, LinkedIn Ads and social media. From a starting point of 5 a month, inbound leads have now tripled and are continuing to increase.
LinkedIn Ads Building Brand Awareness With High Profile Brands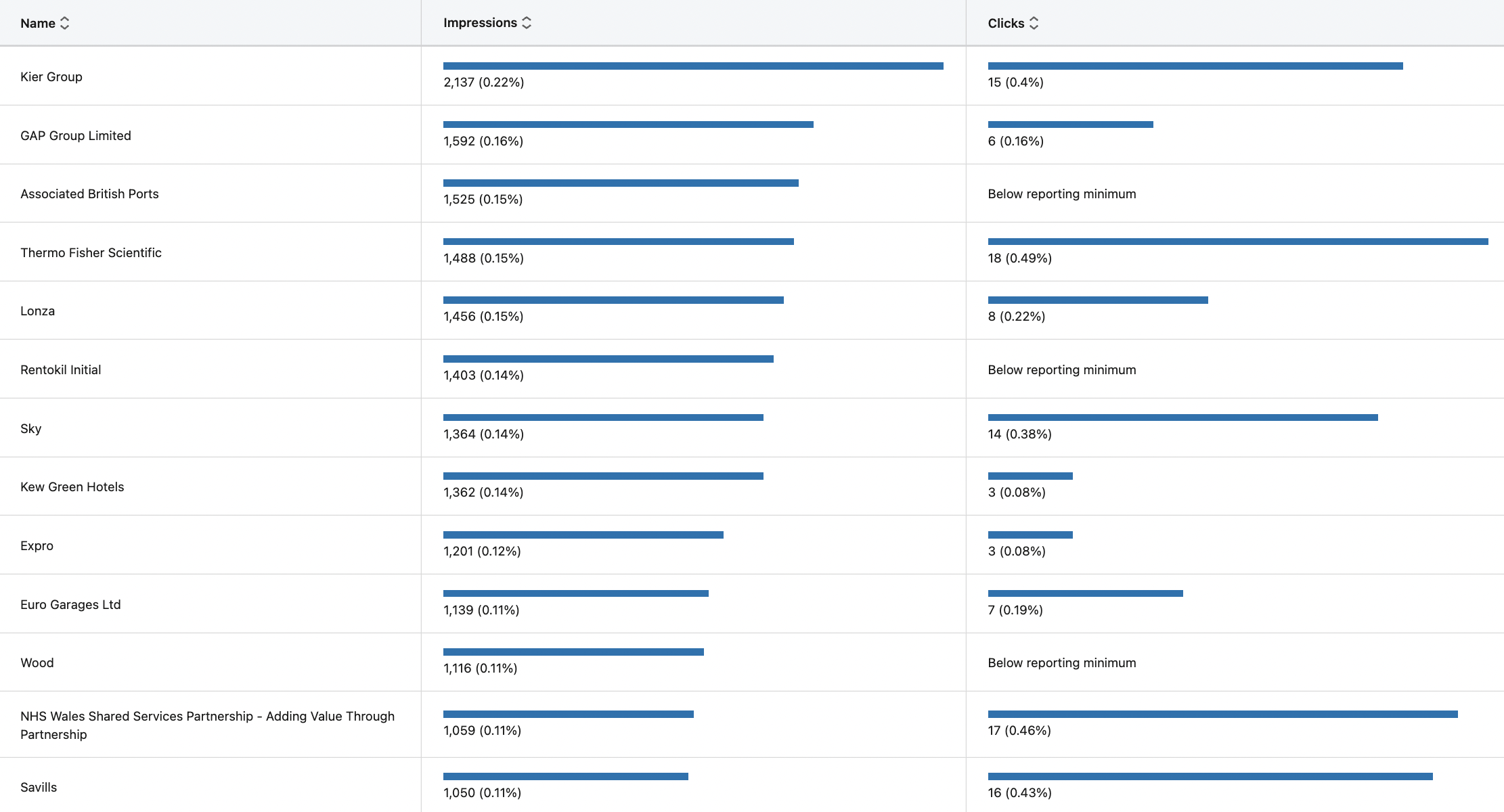 As part of the strategy work, we identified LinkedIn Advertising as a great way to reach their target customers. This strategy allows us to show engaging, interesting content to people in the specific job roles we want to target in big companies (see above for examples of the types of organisations seeing the ads).
The ads generate leads (averaging a cost per lead of just £8.19) and are also leading to LinkedIn engagement and new company page followers - but the key benefit is the increased brand awareness with high value accounts.
Control Over Google Ads Spend
When we audited the existing Google Ads account, we found a number of issues which meant that there were high volumes of low quality/irrelevant traffic, as well as no way of measuring the effectiveness of the ads. Our audit gave them an account health score of just 25%, with an estimated £1k wasted spend annually and an average keyword quality score of just 3.5 out of 10.
Since taking over, we have restructured the account, and focussed the budget on the keywords and targeting options that are highest converting. Using HubSpot CRM, we now have visibility on not just the number of conversions from the ads, but who those leads were - and what happened to them. So we are able to see which keywords and ads are generating demo requests and leading to genuine sales opportunities, and then optimise the account accordingly.
Custom Website Redesign
We designed a new website for them, planning a new design layout and then building a custom WordPress theme. This design has now become a template for other websites within their company structure, and includes an online calendar which allows prospects to schedule demo appointments directly from the website.
CRM: Consolidating Marketing & Sales Technology
Previously, this business had a patchwork of software solutions used in their sales and marketing. Their primary CRM was Salesforce, but they also used an online calendar tool called Youcanbookme, a website landing page tool called Lead Pages & and had Mailchimp for email marketing. These were all interconnected with a Zapier account.
HubSpot CRM was able to do the job of all of these tools in one place. This reduced costs, made it easier, and meant that all the data is now in one single source of truth. Crucially, it means we can now fully measure all of the sales and marketing to help get better results.
Hands-Off Solution
Life is busy for the directors of this company - they run multiple businesses, and are hands on with the sales process as well as onboarding and managing existing customers. Marketing was always a part-time/occasional activity, but the nature of our 'done for you' programme has meant that there is a constant and ongoing focus on the SEO, Google Ads, Content & social media. Marketing is a vital business function, and as a result of working together, the directors can rest assured that it is being looked after and focus on the areas of the business which most demand their attention.
See How We Can Help Your Business: Get A FREE Review Of Your Marketing
Since 2004, we have developed a marketing system designed to help you get more leads, build and market to a database and, ultimately, get more sales.
To start the ball rolling, request a FREE review of your current website & marketing or book a call with one of our experts to see how we can help your business.