Case Study: Construction Equipment Manufacturer Triples Website Traffic, 6x Increase In Enquiries

This client is the UK arm of an international construction equipment manufacturer. They sell to plant hire companies, as well as direct to end users in a range of market sectors.
Despite only recently entering the UK market, they have grown to become the largest brand in their category - with over 60% market share.
Despite the growth, they have a small team with only one person employed in marketing. They felt they needed more help with digital marketing, and as a result, they chose to engage with JDR Group and with HubSpot.
The results since have been fantastic - they have achieved page one rankings for their priority keywords, they have tripled their website traffic and grown the number of inbound enquiries by over six times. This has led to a pipeline of quotes and sales opportunities of over £10m from their digital marketing.
At The Start - No Measurement, No Strategy
Our first step was to complete a full analysis of their marketing and their current website and once we did this, we wrote up a full marketing report detailing all the issues we found:
There was no marketing strategy or coherent plan.
There was no way of measuring marketing results - they were using Act CRM but only as a glorified address book.
They had a website with no content management system - every time they needed to make changes they were charged by their website company. They had no access to be able to make quick edits or changes by themselves.
They were publishing news stories - they were generally self-promotional and not audience focussed.
Their SEO was poor - and they had low Google rankings given the size of the business.
They had a Google Ads account which was being run in-house, with very little experience/know-how. Our audit of the account showed lots of irrelevant traffic, wasted budget and important advertising features being underused.
Here were their marketing audit scores: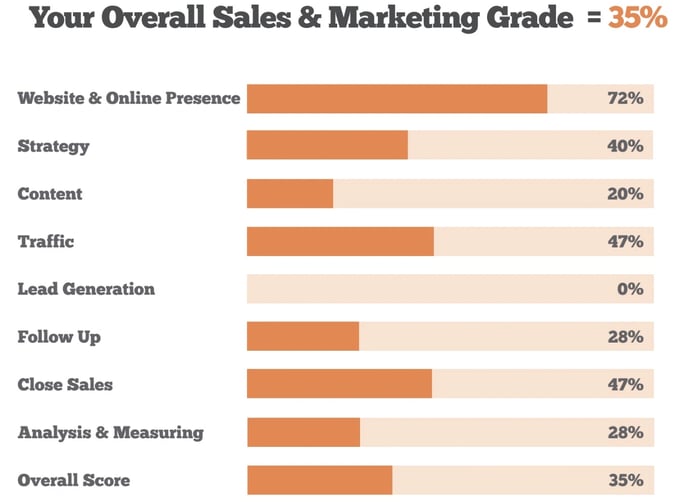 The Marketing Plan
Following on from this report, we put together a customised marketing programme for them. Our role was to implement a more comprehensive inbound marketing programme including:
The Results - £10.6m Sales Pipeline From Inbound Enquiries, £4.6m Won
As of the time of writing, the progress has been significant:
27 tracked keywords on page one of Google
Website traffic has tripled - from an average of 596 visits per month to 1526
There has been a 6x increase in leads/enquiries - from 5 per month to 30
New customers have now been won from multiple channels including LinkedIn and Google Ads
£10.6m inbound enquiries/sales opportunities
£4.6m confirmed/won from those enquiries
Here's what these results look like in graph form:
Website Traffic Has Tripled

As a seasonal business, there are always ups and downs in website traffic. There have also been changes based on varying Google ads budgets and strategies over time. Display advertising, for example, drove a lot of website visitors late 2019/early 2020 (the pink section of the graph above) but has since been reduced as we have focussed on a higher converting strategy. But with these ups and downs, you can see the starting point - just over 500 website visitors - and that the site is now regularly getting around 1500 visits per month.
SEO Progress - Page One Rankings For Key Terms

The graph above shows the improvement in overall search engine visibility, which has been continual and steady despite numerous Google updates along the way. The company is now fund for 496 keywords, and crucially, is now on page one for their priority keywords.
6x Growth In Inbound Leads

As you can see, the number of leads generated each month has continued to grow and build over time with leads coming from multiple sources - Google Ads, SEO, LinkedIn Ads and social media.
Additional Benefits - Aligning Sales, Marketing & Strategy
Apart from directly attributable leads, enquiries and sales, there are also softer benefits to good ongoing marketing. For this client, they include:
Custom reporting - the board of directors meet monthly and this involves preparation of sales and marketing reports. We have helped recreate these reports using HubSpot's custom reports and dashboards - freeing up valuable time, and also providing reports and insights which they weren't previously able to see.
Video sales training - the company has a small sales team, and in addition to working with their marketing we have also provided sales training for their sales representatives. This covered how to use video as part of your sales process - which has been vital during the pandemic when face to face meetings with customers weren't possible.

Gaining control over their website

- now the website is on HubSpot CMS, this brand now has control over their most important marketing asset - their website.
Collaboration - over the years we have developed a collaborative working relationship with their in-house marketer. This has benefitted the results and also helped give this individual additional knowledge and resources to support them in their role.
Feedback: "Impressive, Measurable Results"
Here is what they have had to say about working with JDR:
"JDR have been at every step of our development with HubSpot, they have guided and supported with professionalism and excellent knowledge. Since joining the company in 2020 I have seen Will and Jarrad implement a strategic HubSpot plan for us to utilise our package to its best potential ensuing impressive measurable results. Our lead generation is now better than ever with sales staff who can use the system easily and happily down to the JDR training and ongoing support to make it work for them. Looking forward to our next steps!
See How We Can Help Your Business: Get A FREE Review Of Your Marketing
Since 2004, we have developed a marketing system designed to help you get more leads, build and market to a database and, ultimately, get more sales.
To start the ball rolling, request a FREE review of your current website & marketing or book a call with one of our experts to see how we can help your business.