Why Marketing Is Essential In Beating Your Business Rivals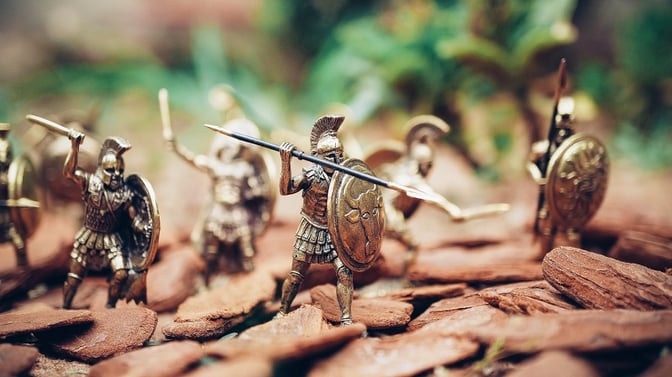 Despite the temporary lull in business activity, competition in most sectors is as strong as ever, so effective marketing is a must. Uncertain times are always potentially around the next corner, which is why the smartest companies strive to nullify its effects and stay ahead. If you run a small or medium-sized enterprise (SME), read on to discover more.
Below, we offer free tips from business experts on how to overcome the obstacles, maintain your market position, compete with larger organisations and grow your company – whatever the weather outside.

How To Beat The Competition In Business
Firstly, it is essential to identify the competition by remaining alert and being proactive. If we draw an analogy with a military campaign, the key is to stay at least one step ahead of the enemy. As the adage has it, luck is when preparation meets opportunity.
Accordingly, identify your goal(s) and draw up a strategic plan that takes your strengths into account, but avoids weak points and over-commitment. Additionally, consider opportunities you spot or hear in the news, as well as possible threats.
Online Business Competition
Whether or not you offer products or services solely in the digital marketplace (e.g. service businesses), or in the real world (e.g. engineering), physical location is not a limiting factor for marketing. All businesses should, therefore, be aware of other companies providing similar brands and services in the sector at large. To beat competitors online, it is essential to be flexible, think ahead and always keep an eye on the big picture. Be smart in fighting your corner; know how to choose your battles. Also, maintain good service levels with your existing client base and avoid spreading yourself too thinly.
Effective Business Strategies
Without knowing your customers well and being familiar with the profile of prospects whom you wish to attract, supplying the right service at the right time becomes a hit and miss affair. To meet expectations today, therefore, it pays to be quick to identify changes and spot those areas in which it is necessary to compete anew.
Branding
Good branding plays a vital part in securing a competitive edge. It defines who you are and what you offer customers. Prospects will have an instant visual impression of who you are, thus differentiating your organisation from the crowd. There is another advantage, too: when used well, the right brand image helps to maintain pricing.
Discounts
Offering a discount for immediate orders gives your enterprise a chance to shine and beat competitors. However, because savvy buyers are usually quick to spot phoney offers, it is vital to offer only genuine incentives to qualified newbies and loyal customers. Linked products, timed offers, repeat deals and bulk discounts are just some of the options. Timely offers to help customers out when they most need it, such as deferred payments, free postage or reduced admin fees, create a good impression and set your business apart in a busy marketplace. It's not always the most ruthless businesses that succeed; sometimes it is the most generous and open hearted brands than secure the biggest market share – a lesson the current crisis is driving home. Conversely, competing on cost alone is unlikely to lead to business success; it could provoke a race to the bottom and suspicion from customers.
Encouraging Loyalty
Finally, maintaining customer loyalty during uncertain times is a core aspect of staying ahead. Research has shown that it costs less to keep existing customers than to find new ones. Since an existing customer base could become a target for competitors, it is crucial to remain aware of the competition and maintain customer satisfaction through excellent service. That way, those desired repeat sales and referrals should follow.
JDR: Open For Business
In line with government recommendations, our team is working remotely and we are open for business as normal.
To discuss your current requirements or to build a winning brand for when the crisis has passed, please call 01332 343 281 today.
Image source: Unsplash