Learn The Importance of Creating a Strong Online Brand And How To Implement it
Can You Name These Online Brands?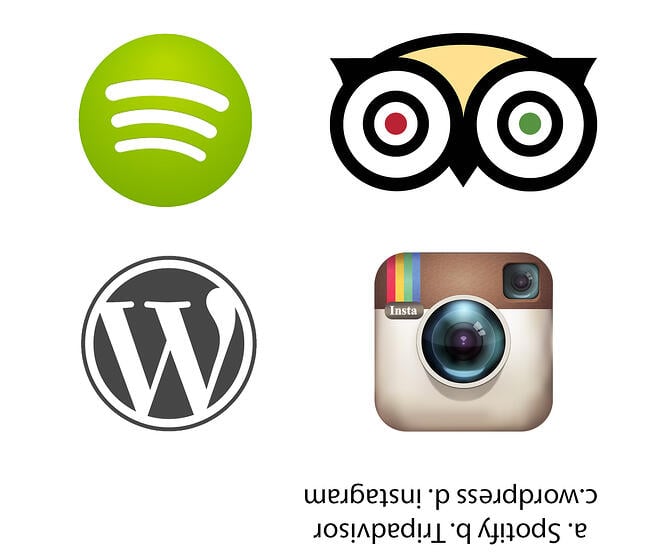 If you could name all 4 brand logos then well done and this shows just how powerful an online brand and image can be.
Your business's online brand is what people think of you when you are not available. Your online brand is as important as any of the traditional forms of branding and becoming more and more important each day. Most customers are now technologically minded and research a company's complete online presence as a validity test, before making any buying decision.
In the competitive business age we live in, your online brand needs to be a full reflection of your business. Your online brand must be extremely recognisable, relatable, and authentic; so setting itself apart from your competition.
Creating an online brand presence is about capturing the attention of your target market. Prospective customers today want to relate directly with businesses, and feel safe in the knowledge that they are speaking to the market leader, before they make a decision on whether to buy their products/services. Below are some areas to help focus your online brand into becoming the market leader and become as recognisable as the brands above.
First things first: Ask yourself these quick questions:
"What is my business all about?" "Is it clear from our branding what we do?"
It is incredibly important to display a consistent branding strategy across all online channels and media. This creates brand recognition and helps to reinforce the brand to prospective customers. It is now common practice for a business to use several channels to speak to prospective and current customers. For example, a business may use its website, several social networks, blogs, video channels and SEO to speak to their target markets.
Optimise Your Website: Creating and maintaining a website is one of the most important branding tools for any business in today's competitive market. Website optimisation for optimal performance on search engines is one of the first things companies can do to drive traffic to a website and improve the brand's visibility.
For more hints and tips regarding website optimisation please see the following blog article: How to Turn your Website into a Consistent Source of New Business
Social Media: Social Media Marketing is one of the most effective and cost effective ways to promote your business brand and create brand awareness fast in your target market. Social Media Marketing promotes visibility, brand loyalty, recognition, and can also grow your sales. In addition, social media marketing allows small businesses and established ones to compete with an advantage. It enables businesses to reach worldwide audiences.
To find out more regarding social media marketing for your business please see the article written by my colleague Laura Morris-Richardson: How Do I Actually Make Money From Social Media?
Great Quality Content: Creating quality content for your target market to read is the best way to gain visibility online and develop a strong brand. It is one of the most effective marketing strategies to promote your business and create brand recognition and establish your business as a market leader. Creating quality content has become an essential cog to any successful marketing strategy.
To understand more about the importance of content creation please take a look at these articles: Content Marketing
Video Marketing: Businesses of all sizes and scale can benefit from video marketing i.e., YouTube, Vimeo, etc. Posting branded videos relevant to your target market is a very effective way to promote your business. By creating great branded videos that help potential customers in your target market, encourages them to find out more. This drives traffic to your website, and gets your brand noticed in front of a targeted audience.
For more information regarding video marketing on you tube read this article: 5 Video Marketing Tips: How To Promote Your YouTube Videos


Write Blog Articles: Having a blog will enhance brand visibility and improve your chances of success. In fact, blogging is one of the most effective ways to improve the visibility of your brand online. Blogging greatly improves your search engine rank, establishes validity in your brand and increases reach. In addition, blogging helps to cultivate relationships with customers and other influencers.
For tips on writing blogs that generate leads see this blog post: What To Blog About: 11 Blog Post Ideas For Small Businesses
Following these practices will help ensure that your online brand reaches the right target market and these prospective customers recognise your brand as being the brand they want to speak to and do business with. Having a strong online brand sets you apart from your competition and can ensure that customers keep coming back to your business more and more.
For more information on brand awareness please click on the image below to receive a FREE inbound marketing assessment by our inbound marketing team at JDR.
Article by Dale Bonser