Lightbox Ads Bring Display Engagement Campaigns Into The Spotlight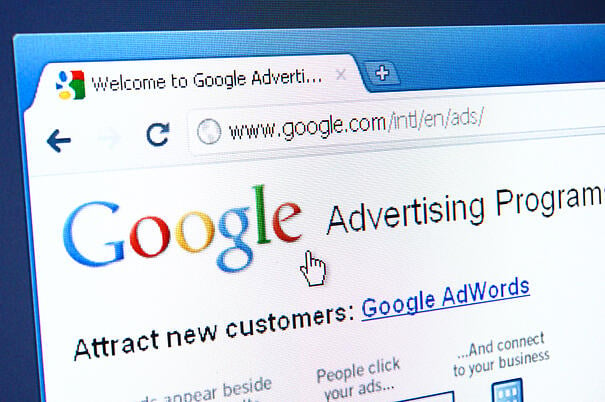 Fact: there are now over 2 billion smart phones and tablets in the world today, and an increasing number of their users are relying on them for Internet browsing and buying. In a 2013 study by Super Monitoring, they found that: - 50% of mobile phone users use mobile as their primary Internet source - 72% of tablet owners buy online from their tablets every week.
In the world of PPC advertising, Google Adwords has been doing great things to stay on top of this mobile revolution, but one of the best to-date has to be the all-new Adwords Lightbox ads.
As of 9th December 2014, Google have announced a reinvention of this popular ad format by bringing it to all mobile devices, for all Adwords PPC advertisers across the globe. What's the big deal? Well, not only do Lightbox ads look visually stunning on any device, they save you money and improve engagement levels on the Display Network!
How Google Adwords Lightbox ads work
Lightbox ads look how they sound. When someone hovers over your Display ad on a desktop, or taps to expand on a mobile phone or tablet, the screen will be dimmed and a 'light box' will appear on the screen, showing your full Engagement advert in beautiful HTML5. The HTML5 format means that you can show rich media content such as a catalogues and video, and it will all dynamically fit into any screen, device or mobile app.
A Lightbox ad can pull videos from your YouTube channel, upload images or Google Maps and put them within an Interactive Advertising Bureau (IAB) ad size. If you keep an eye out, Adwords will soon let you integrate Shopping campaign product listings and Google+ pages into these ads too.
Here's an example of an Adwords Lightbox Engagement ad and how it expands on the page.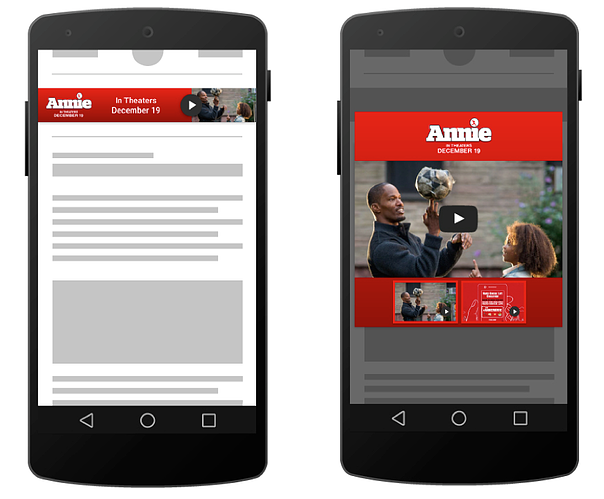 The key features
One of the best things about this new ad format is that you only pay on a cost-per-engagement (CPE) basis. So when you create a new Display – Engagement campaign, this is the only payment method available to you. Of course, this means that your Adwords PPC budget stretches a lot further, as you're only paying when people choose to expand the ad and engage with it. Straight away, you are investing in an audience who are already interested in your offering – 'qualified' leads.
Another great feature is that Lightbox uses an intelligent optimisation engine, meaning that it tailors the audiences the ads reach based on past data. Basically it learns which targeting methods have worked in the past, so that the level of audience engagement improves over time.
The benefits to you
- Seamless audience targeting – Like regular Display Network campaigns, you can target by Interest & remarketing, Placements or Keywords. This hasn't changed with Lightbox ads, so everything will be easy and familiar to use.
- Room for creativity – The media-rich, high definition format of Lightbox ads ensures that you have your viewers' full attention. With advanced, responsive HTML5 and various media integration options, this is a fantastic opportunity to get creative with your brand message.
- Dynamic product advertising – Sony Electronics joined a beta test of Lightbox ads recently, where they advertised their 4K Ultra TV, Xperia smartphone, Playstation and more. The combination of brochure-quality images, video demonstration and audio really enhanced audience engagement and gave a lasting impact.
- Extra reports – When you set up a Display – Engagement campaign, you can see landing page click-throughs in the "Free Clicks" report, where you can even count people who only watched a percentage of your video.
- Seamless viewing experience – have you struggled in the past to create mobile-optimised ads that look as good as the desktop version? With Lightbox ads, this is a thing of the past. They adapt their size and resolution to suit all screen sizes and types – desktop or mobile.
This latest capability in Google Adwords is just what mobile advertisers need. It's an easy way to create attractive mobile-optimised adverts, without losing any quality. Just go into your account, set up a Display Network Engagement campaign, and you're ready to enjoy the next level of PPC advertising.
So now you know how to improve engagement levels before people have visited your website, want to find out how to hold that engagement after they leave your site? Read this article: Dynamic Remarketing-The New Way to Engage Customers After They Leave Your Website
Listen: Join Will Williamson & David Roberts, as they discuss the in's and out's of digital marketing.
Article by Laura Wootton