Why You Shouldn't Ignore Twitter For Business to Business (B2B) Marketing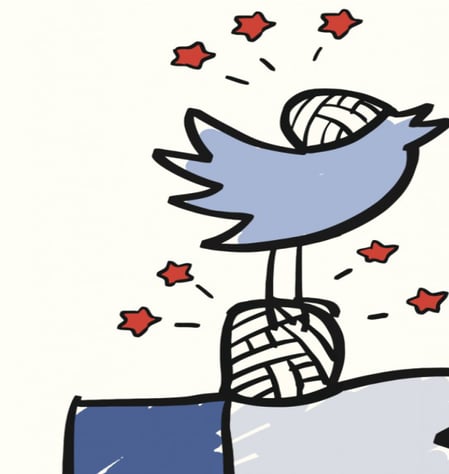 While 140 characters of text hardly seems enough to say much about anything, Twitter is a useful B2B marketing tool – especially when it comes to gaining insights about content and customers. With its simple publishing, connectivity with social media platforms, and capacity to track and measure engagement, Twitter is a great tool for curating, sharing & testing content.
As a business, if you're still using Twitter only to attract followers and generate interest in your brand, you're missing out on a huge opportunity for B2B Lead Generation - and eventually sales! Making that change, and taking advantage of the real power of Twitter starts with adopting a new set of tools, tactics and techniques to engage with and nurture your Twitter followers. If you're ready to make the switch, you can read this beginners guide article to help get you started: http://bit.ly/1MScmEk While many businesses are gradually realising that Twitter can be used for B2B lead generation and selling, the majority haven't been successful with it yet. eMarketer found that 49% of B2B marketers cite social media marketing as the most difficult lead generation tactic to execute. Here are a few things you can do to make your execution easier:
How to increase the reach of your Tweets
Hashtags and mentions can help increase the potential reach of your post: hashtags are helpful for organic searches and can be treated as a form of SEO – yes, Twitter is also a search engine; mentions are useful to appealing to the sycophantic nature of social media. Social media participants like recognition. By massaging their ego, you will be more likely to gain their brand advocacy.
1. Research, identify and use appropriate hashtags within your posts, this allows you to tap into a wider conversation. Properly tagging your content helps it be discovered by users searching for information around a given topic.
2. Use a maximum of two hashtags per tweet. Hashtags are a useful way to get your tweet out to people who are actually interested in its main subject, but too many hashtags in a single post can be overwhelming. By reading this article on the power of the hashtag, you can learn how to do this better: http://bit.ly/1aZVStX
3. When referencing others in your Tweets, be sure to use mentions to encourage them to re-tweet your content – as this will be seen by their followers.
4. "Promoted Tweets" (a form of paid-for advertising) can be used to target both current and potential followers by keywords in timeline, interest, geography and device.
5. Leverage your employees. Many will have followers related to your industry. Asking them to become brand advocates is an easy way of expanding your corporate reach.
To make your business-to-business (B2B) Twitter marketing strategy as effective as possible, here are a few guidelines:
Learn from the best: Some big companies have a knack for tweeting in a way that drives their business. Study what they say and how they get a rapport going with their customers. Some of the best are Levi's and Nike.
Choose carefully who you follow: When you set up your Twitter account you can follow companies, and the tweets of those companies will automatically come to you. Pick and choose carefully. When a company you've selected re-tweets interesting posts from others, it is much like a referral. Such re-tweets will guide you to additional companies to follow. In general, experts in B2B marketing recommend you follow customers, analysts, partners, potential customers, media, and bloggers in your industry.
Include various departments of your business: As in any marketing effort, first make sure everyone understands your consistent brand position. Then encourage tech savvy staffers, especially those in sales, to read and respond to tweets involving your industry.
Use apps to help manage your tweeting: You can filter and organise incoming tweets to help you stay on top of the most important messages. Hootsuite is one of the most popular tools right now; in addition, check out TweetChat and TweetDeck.
Keep the tone personal and conversational: What you say can be positive and consistent with your brand, but how you say it needs to be distinctive. Avoid any phrases that sound like a public relations script. Think of Twitter as a conversation, not a sales pitch.
Use links to track who is reading your tweets and re-tweeting: A service called bit.ly will help you shorten your links, keep track of who is clicking links in your tweets, and know which of your tweets are most popular. When you know what is popular, you'll know what to keep doing. For best practices on how to use Twitter to boost your leads, give this article a read: http://bit.ly/1IXc525
Despite the industry, Twitter often is not enough to help you achieve your social media marketing goals. The most important thing to remember with Twitter is that there should be a uniformity with to your other platforms for e.g. Facebook or LinkedIn.
For B2B marketing on Twitter you have a limited audience to begin with; however, this is not necessarily a disadvantage. In fact, you can use this to your advantage by making your approach more targeted. Instead of a generic content strategy, find out the key influencers and tailor your content to attract them. Similarly, your presence on the platform should also work towards becoming a source for valuable data about your industry.
While there are many ways in which Twitter can be used for B2B marketing in many industries, one important way that will give you credibility is by using it as a customer service medium. Encourage discussions and be proactive in solving any common issues that consumers face. If you're struggling with Twitter and want more information on how you can use it to grow your business our team at JDR can help, give us a call on: 01332 343281.