How Much Does SEO Cost?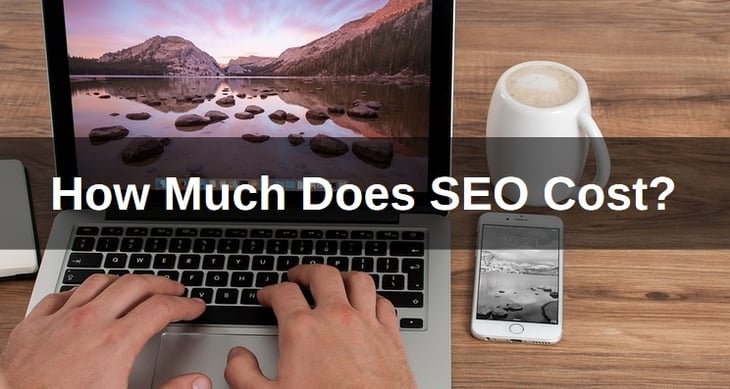 Effective SEO requires a high level of expertise and a long term investment of time, and where time is money, every service comes at a price. You will find SEO quotes ranging from £25 to many thousands of pounds per month. SEO techniques vary widely from supplier to supplier – and some are more effective than others.
For us it is important to make SEO affordable to most budgets. However, the real issue is one of value for money. If SEO delivers a good ROI, then the upfront cost is almost irrelevant, as you will be bringing in several pounds for every pound you spend. Here is the key issue: it is easy to spend money on SEO techniques that don't really work. What you need is a carefully managed campaign that measures everything in terms of direct value and effectiveness – and that treats SEO as part of a combined marketing strategy designed to fulfil your business goals. This is the approach we take at JDR.
This guide is to help you select the most appropriate model of SEO for your business, by detailing the services and packages available and to help you avoid some common pitfalls.
How Well Is Your Website Performing?
Did you know that 75% of users will never scroll past the first page of Google search results? That's a scary statistic when you consider the immense level of online competition. It's not just about having a website, it's about creating online presence; becoming an authority in your field and making sure Google rates your site for all the right reasons.
Search engine optimisation (SEO) plays an important role in establishing and maintaining your search engine ranking. The ideal scenario is to consider SEO within the creation of your website and as an ongoing process thereafter. However, if your existing website is not yielding the desired results, we offer a range of SEO services to increase your online performance.
SEO Services - Stage 1
The first stage requires analysis of your website and how it compares with your competitors. This will highlight which services you require and assist with budget prioritisation. A quality report should include information about the following points:
Keyword research and analysis.
The appropriate usage of keywords throughout your site, including; title tags, meta tags, descriptions in the opening paragraph for each page and within the body of your content.
Back link sources – For you and for your competitors. Bounce rates – You should strive for below 40% or less, depending on the nature of your website.
Bounce rates can indicate the relevance (or lack) of your content to visitors.
Layout and ease of navigation – Interestingly the visual design is less important than ensuring your visitors can find information with ease. All categories should be easy to locate within the main menus, with web pages labelled to match each category.
Repeat visitor analysis – Indicates longer term value in your content, vital for building brand trust within the buyer's journey from initial visit to conversion.
Social media performance.
Effectiveness of other digital marketing activities, such as email marketing, re-marketing, social media ads and PPC.
Stage 2
Once we have an overview of your current performance benchmarked against what you could potentially achieve, we can evaluate areas for immediate action and longer term focus, then select an SEO strategy to create the most appropriate ROI.
On-Page SEO
On page SEO is the process of optimising your keywords within your background web coding. It is important in helping associate your keywords with search entries, but is far more effective when combined with the development of quality content, which includes your keywords in a natural context. This is where there is an important cross-over between SEO and Content Marketing. Find out more about on page SEO here: 9 Different On Site Optimisation Factors For Your Website
How Companies Charge For SEO Services
SEO providers can charge in any of the following ways, or sometimes as a combination based on the services you require. At JDR we like to keep our charges simple, and provide bespoke quotes based on what your business needs following the two-stage analysis outlined above.
Monthly Retainer
Most SEO companies, including JDR, charge for services based on a monthly retainer. We agree a set fee each month for an agreed service package. Retainers could include services such as analysis, quality link building, content optimisation, social media management, press releases, company news updates or useful content in the form of product information, advice, a blog, videos, or eBooks. Regular monitoring for improvement based on analytics and relevant, quality content increases brand trust, leading to repeat visitors and higher conversion rates. Google likes this and rewards accordingly. A monthly retainer is ideal for companies who recognise the effort involved in keeping a high ranking position online. This is the most common package selected, due to longer term reliability and ROI. Quality is worth paying for, and remember once you've achieved ROI, you've negated the costs.
Fixed Price Contracts
Some suppliers outline a set of services for a fixed price. Web audits are a good example of a fixed price service, providing a comprehensive overview of your website's performance. Content development and social media management are also popular choices, as the content produced needs to be lively and engaging, with the right tone and balance. Our content specialists are experts at producing high quality written and visual content, providing a more cost effective option to in-house content development.
Consulting
An hourly rate is charged for an agreed set of services or for information and advice.
Pay Per Performance
Some SEO companies offer pay per performance tariffs, although we don't. On paper these packages appear risk-free as you don't pay anything until clear results are delivered (usually search rankings). However, the danger of this approach is the pressure it puts on the provider to deliver fast results. It therefore favours short-term, transitory gains at the expense of sustainable, long term growth.
Companies may feel paying based on performance is a logical choice, without truly understanding how Google ranks websites based on the level of relevant information they can provide. To build online presence takes time. With this in mind, be wary of companies offering immediate results. Google's latest Penguin update seeks out websites guilty of 'Black Hat' techniques, which could get your website demoted or even banned by Google. Such tactics include unnatural content packed with keywords and cloaked content that diverts visitors to unexpected content via a link. Hidden text may be masked by using a white font or links disguised in punctuation marks. Duplicated content and spam links will devalue your website.
Getting To That No.1 Position Is The Ultimate Goal. Staying In A High Position Is Harder.
This is where a broader marketing strategy will enhance SEO efforts. It is common to feel frustration at a perceived lack of results and to become disillusioned with inbound marketing, unless you appreciate the evolving nature of Google algorithms and the necessity of approaching your web marketing as an encompassing strategy. There are a number of variables at play, from the influx of new competitors, to changes in the way search engines value links, or rate keywords. Our team of experts recognise the variables and tackle these by implementing high standards across as many platforms as possible to ensure the best results and ROI. Many companies find outsourcing SEO and web marketing to a professional the most cost effective choice, as the high level of skill and time demands involved in success can be too high to justify the cost of a full time in-house marketing team.
The Cost of SEO?
The key to evaluating the right approach to SEO for your business comes from understanding the value and ROI of SEO as part of a wider, ongoing marketing strategy, tailored to your target market. You'll need patience and vision to appreciate the longer term picture, but the results are worth the effort.
FREE SEO Website Analysis
The real question is not how much does SEO cost, but how much is SEO worth to your business? To see where you are and what you can do to improve your search engine performance, take advantage of our free Website SEO Analysis offer. Claim your detailed report today by clicking here.