Case Study: Specialist Welding Company Goes Beyond SEO To Develop Full Inbound Marketing System

In 2016 we met with a specialist welding company (machinery, tooling & welding services). They had been using SEO as their only real marketing channel (other than word of mouth), and were not convinced it was generating much in the way of new enquiries, despite being high in Google already for a number of important search phrases.
After doing an audit of their website, their competitors and their marketplace we recommended a more comprehensive approach to their marketing...
Our Solution
We have done the following:
New website design - transferring the previous SEO work and making it mobile responsive / editable
Update all brochures and product specs
New logo / branding
Regular content creation - primarily blog articles but also videos
Social media marketing - especially on LinkedIn
Google AdWords
Email marketing - we have sent email campaigns to their existing database as well as building a new, opt-in database
CRM system
Measurement of the entire sales and marketing system
Technology
We have introduced our own CMS system, JDR Enterprise, and used Google Analytics and Mail Chimp - but the biggest single technology platform we used was HubSpot. HubSpot has allowed us to:
Have a marketing dashboard - for a one-page, real time report showing how well their online marketing is working (see below)
Have a sales dashboard - a similar, one-page report showing their sales forecast, if they are on track to hit targets, see which team members are performing best, measure conversion rates, etc (see below)
CRM system & sales pipeline - HubSpot provides an all-in-one sales and marketing platform with a full CRM system integrated
Publishing platform - blogs, landing pages, social media, emails and calls to action are all managed through HubSpot
The Results
Website traffic has grown from a starting point of approx. 500 visitors per month to over 1200 visits over time:

And lead generation has also increased significantly - with new quote requests picking up quickly and growing steadily each month:

After a poor turnover year, the business is now booming again and they have a new set of challenges - keeping up with the work and staying on top of all the enquiries! HubSpot has given great reporting, with a marketing dashboard that can show us immediately if website traffic, leads and sales are increasing, and what the conversion rates are:

This reporting is not just on marketing, but also on sales - we are now tracking performance against their goals / targets and forecasting future sales based on the quotes / opportunities in the pipeline: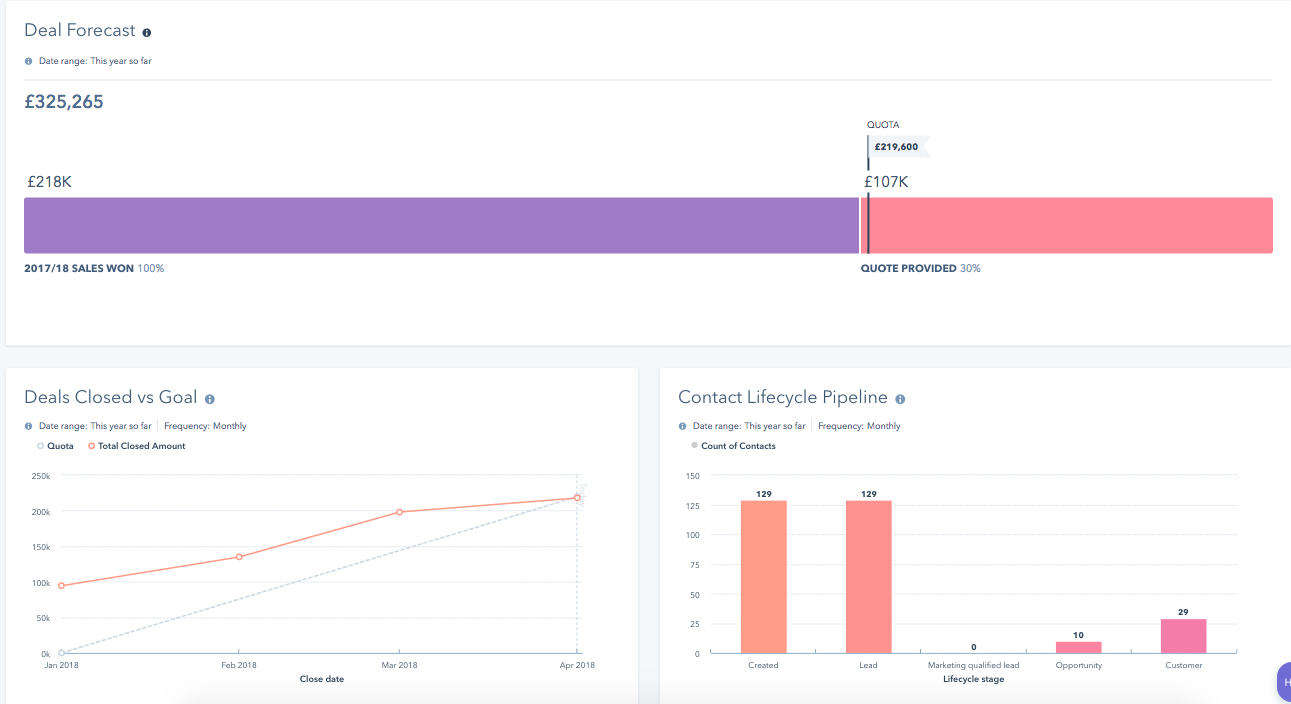 Find Out More About How JDR Can Help
Over the past 14 years we have developed a marketing system designed to help you get more leads, build and market to a database and ultimately, to get more sales. To find out how we can help your business grow visit https://www.jdrgroup.co.uk/digital-marketing-services.
To start the ball rolling, you can request a free audit of your current marketing: FREE MARKETING AUDIT