Google Specialist Partner - The Digital Prosperity Podcast – Season 2, Episode 3
This week's show is an announcement really of the fact that the JDR Group have just become a Google Specialist Partner.
Now in our recent show, Why Is Google AdWords So Expensive? I said that we always recommend to people that you should have Google AdWords managed by someone that knows what they're doing, by an expert, someone that's there who can proactively manage your account on a regular and on-going basis.
JDR Group, along with a number of other marketing agencies, has been certified as an official Google partner. That's an accreditation that has been around for a year or so and it's just like an accreditation you might get if you are in the construction industry or if you're in manufacturing and so on.
We have a number of these already. We also have the HubSpot Partner accreditation. We're Infusionsoft experts and so on.
What It Means To Be A Google Partner?
Now, what it means to be a Google Partner is that you have to demonstrate to Google a certain level of expertise and the way you do that is by passing exams:
You have to pass two separate exams and you have to then renew those every single year in order to maintain your certification
You have to have a number of Google AdWords accounts which you're managing on behalf of clients
There needs to be a certain level of budget that you're managing
The accounts have to be managed to a certain standard
You have to follow certain best practices
You also have to validate your business in order to achieve the Google Partner status
So as I said, we achieved that accreditation a couple of years ago.
The Google Specialist Partner Accreditation
Recently, Google introduced a new level to their accreditation which is the Google Specialist Partner. Probably it's a response to the changing nature of online advertising and the fact that Google has been widening the range of ways that companies can advertise and market using the AdWords platform.
So unlike just being a Google partner, in order to be a specialist Google partner, you have to demonstrate expertise by passing exams in a much wider range of specialist advertising formats. So that includes search advertising, these are the ads that you see every time you do a search for something in Google and includes understanding keywords, ad formats and advert extensions and how to target your ads and so on.
Then you have display advertising, these are the ads that you see on websites as you browse the net and you often see on mobile apps as well. So the most commonly known format of display advertising is banner adverts and the most commonly used – most widely known method of targeting for those ads is something called "remarketing," which is where you show ads to people who previously visited your website. This is when you have the experience of ads seeming to follow you around the internet. That's a form of display advertising called "remarketing".
We also have to understand and demonstrate knowledge in video advertising. YouTube is a Google property and you can now run video ads on YouTube and you can run ads that include video content using Google. Another specialism is mobile advertising, how to create mobile-relevant ad formats and how to make sure you reach consumers and potential buyers on their mobile devices at the most relevant time. Shopping adverts for e-commerce websites that want to sell products directly. These are the image ads that appear when you do searches for products at half the pricing and you can go straight through to those product pages and make a purchase from those ads. Those are called shopping ads.
Then finally, an understanding of Google Analytics and how to measure and make decisions based on the data you get about your website visitors. So this Specialist Partner status means that we have shown and demonstrated our expertise in all of those different areas. So what's the benefit? If you are approached by a Google-certified partner, what is the benefit to you?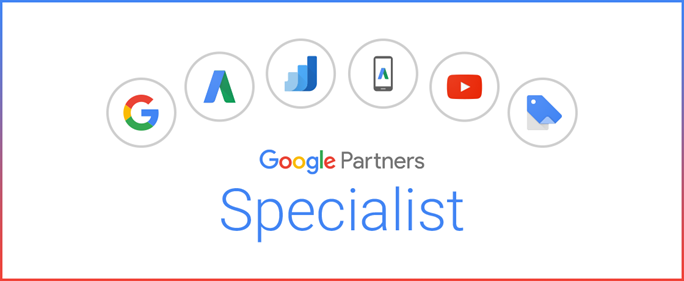 Benefits Of Using A Google-Certified Partner
Well, as a partner, we're able to give some forms of offers and incentives, money-off vouchers, that type of thing and we get direct campaign support from the campaign specialists at Google. While having this certification doesn't necessarily guarantee performance, it doesn't mean that if someone is a Google partner, that they're necessarily going to do a great job for you. It does show that they have a certain level of expertise, knowledge and experience and as a pay-per-click agency or an online marketing agency, you could get that particular certification. You should. So if someone doesn't have it, for me, it would raise questions.
So that's the benefit of choosing to work with a Google partner. It just gives you that little bit of extra confidence that they know and understand the format and they're more likely to do a good job.
Learn More!
If you would like to know more about using Google AdWords, we have a free guide. It's a Beginner's Guide to Google AdWords. You can get that by going to our website www.jdrgroup.co.uk, going to the Resources tab and then choosing the Free Guides option from the dropdown menu. There you will also see we have a range of other free guides that you can download and get, which can be great content information about all aspects of online marketing and many of the things that we cover during these podcasts. So I hope that has been useful.
Once again, feel free to send your questions in to podcast@jdrgroup.co.uk and I look forward to speaking to you again very soon.