Inbound Marketing - Which Premiership Football Team Are YOU?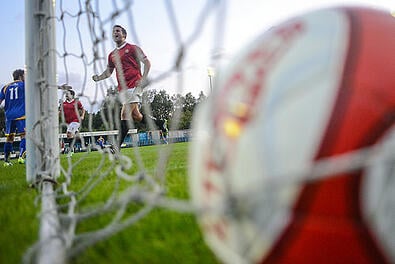 I have two big passions in life. At work my passion is for Inbound Marketing; helping businesses discover the benefits of Inbound Marketing and seeing them succeed in gaining better qualified leads and converting them into sales.
Outside of work, I'm a big football fan. Witnessing the changing fortunes, the ups and downs of each premier league team made the 2013/14 one that was entertaining right until the final whistle.
Combining both these passions into one, led me to come up with the inbound marketing 'premier league'. Ranking businesses in their efforts and successes in inbound marketing got me thinking; if a business was a football team, which one would it be and why?
Which Premier League Team is YOUR Business?
Manchester City
Beating Liverpool to the Premier League title they can be happy in the knowledge that they are the league champions but what the board and the fans really wanted from the season was a better Champions League and domestic cup performance.
OVERVIEW: Title winners, failed on the big stage in the Champion's League.
Inbound Marketing
We speak regularly with business that are achieving targets for a certain product or part of their business. However, they have recently entered into a new market and are struggling to have a market share and generate leads. Developing a short and long online marketing advertising campaign is one of the inbound marketing techniques that can be used to great effect when entering a new market. Developing a strong Google Adwords campaign will provide you with regular enquiries through regular advertising in the short term. This is because your adverts click directly through to one of your website pages. Establishing a long term Search Engine Optimisation plan will ensure that your business will be found on the top of search ranking results.
Arsenal FC
It's widely known that Arsenal play the most attractive football in the Premiership. Where the Gunners struggled last season was to have the conviction to finish a great passing move and scoring the goal. This damaged their title hopes but got them another Champions League finish.
OVERVIEW: Great football, missed the big opportunity
Inbound Marketing
Just like Arsenal we speak to clients that have a great website but are struggling to convert those visitors into Leads, Enquires and Sales. One inbound marketing technique we advise clients to use is Call To Action buttons, attracting prospects to one of your important website pages. These buttons may include messages such as Read Now, Watch Now, Find Out More. They will then be directed to a page known as a landing page, which encourages potential customers to provide their contact details in return for an e-book, guide, quote or brochure. By registering the client they then become a Warm Qualified Lead for the sales team to speak to and make the sale.
Tottenham Hotspur
Tottenham spent over 100 million pounds in the transfer window before the 13/14 football season from the sale of Bale to Real Madrid. But unfortunately spending all this money didn't help them achieve their goals for the season. Tottenham failed to reach the Champions League and didn't meet the expectations of the fans.
OVERVIEW: Big Spender, not achieving ROI
Inbound Marketing
One of the biggest issues when we speak to large business is that they don't have a big enough Return on Investment from their large marketing investment. This is due to them investing in older outbound marketing methods such as trade shows, telemarketing and leaflet drops.
Inbound marketing costs 62% less per lead than traditional outbound marketing.
57% of businesses have acquired a customer through their company blog.
Blogging is 13 times more likely to have increased ROI year over year.
Blogging about your business and products is a proven technique that enhances your marketing and business who have prioritised blogging are 13x more likely to enjoy positive ROI. The benefits of writing a blog for your business are huge. Blogging establishes you as a market expert and trusted source of valuable information. Seventy-nine percent of companies that have a blog report a positive ROI for inbound marketing this year, compared with just 20% of those companies that do not have a blog.
Everton FC
Everton are a large football club with a big history and big fan base. Last season was a great year for Everton with the players performing to a high level and achieving a great league position which has given them European football next year.
OVERVIEW: Great season, need to push forward
Inbound Marketing
It's great to speak with business that are achieving their goals and targets. Existing sound and robust marketing plans are working well and have taken sales to a good level. These businesses need to push forward and not rest on a previous year's success. Inbound marketing takes their marketing and sales to the next level. It allows them to quickly see how they are performing in and where you need to improve. Regular reports and analytics from areas such as SEO and your social media presence will help you make better informed business decisions that can have a direct impact on your marketing and therefore sales.
Crystal Palace
Crystal Palace were everyone's favourites for relegation at the start of the season and by mid-season they were on course for relegation. Tony Pulis came into the club and then they started to turn their fortunes around and play in a new formation. Palace then beat the drop and have another season in the Premiership to build for the future.
OVERVIEW: Fought of relegation, changed the formation
Inbound Marketing
Rather than doing outbound marketing to the masses of people who are trying to block you out, changing your business marketing formation to inbound marketing where you get found by people already learning about and shopping in your industry, may seem like a huge undertaking.
You may be already implementing some inbound marketing at your company, with social media for example. Social media reinforces the relationship between consumers and brands and with interesting and valuable content you can soon be acquiring leads from the world of social media. Learn more about social media by reading our guide on 6 Easy Marketing Tips to Increase Social Media Engagement.
Conclusion
As you can tell, Inbound Marketing is a flexible and far-reaching method of boosting your leads, enquiries and sales no matter which Premier League team your business is. In a competitive market developing an Inbound Marketing Strategy for your business will make a huge difference and make sure that you are at the top of the league.
Article by: Dale Bonser