Twitter Vs Facebook Advertising: Which Offers Better Value For SMEs?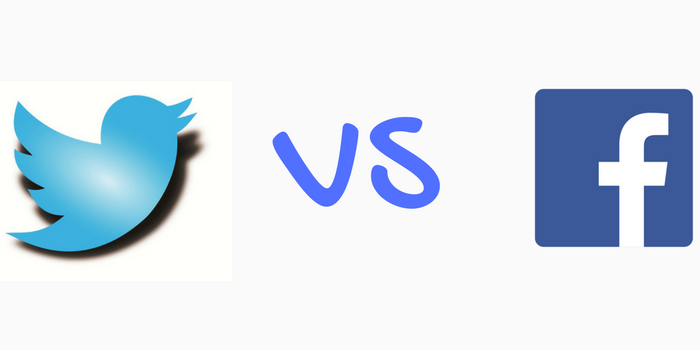 Facebook and Twitter are giants of social media with a reach that cannot be rivalled by any competing platforms. In this article we take a look at how you can leverage these two platforms to your best benefit as an SME. Paid advertising on Facebook and Twitter are the two most immediate ways to increase your reach and engagement. However, each network comes with its own inherent benefits and specialisations. This post will point out the strengths of ad campaigns on Facebook Ads and Twitter Ads, giving a concise comparison of how each network can help you.
Facebook Advertising – An Overview
Facebook Ads can be used to increase traffic from Facebook to your website, increase event attendance, facilitate new leads, increase the reach of your Facebook audience, or to boost engagement on a Facebook page. 79% of all internet users use Facebook, which equates to roughly 1.18 billion active users each day. The exposure which is possible is enormous. The Ads Manager offers you three basic goals/categories, grouping the benefits of each means of promotion. They are as follows:
1) Awareness
These objectives generate new interest in your product, brand or service. They are typically the most affordable means of promotion. Your options are as follows:
Boost your posts
Promote your page
Reach people near your business
Increase brand awareness
Increase your reach
2) Consideration
These objectives coax people into seeking more information about your business or brand. Here are your options:
Send people to a destination on or off Facebook
Get installs of your app
Raise attendance at your event
Get video views
Get leads for your business
3) Conversion
These objectives have a focus on maximising conversion, leading people to purchase or use your product or service. Here is how Facebook helps you convert:
Increase lead conversions on your website
Increase engagement in your app
Get people to claim your special offer
Promote a product or catalogue
Get people to visit your service website
Finalising Your Campaign
Facebook Ads then allows you to name your campaign and customise your target audience. Detailed demographic choices are offered, as well as interest-based options. Once you have configured your campaign, Facebook then gives you an estimate of the reach possible. If you are happy with the level of exposure, then you can continue to set a budget and schedule before creating your ad. You have the choice between using an existing post or creating a complete new ad using the intuitive wizard. Ad placement is then offered.
Twitter Advertising – An Overview
Twitter is one of the most powerful marketing platforms available. In a recent survey, over 60% of marketers voted Twitter as one of the best performing platforms for advertising ROI. When advertising on Twitter, you have the following campaign options available:
Tweet Engagements – You only pay for promoted tweets which spur engagement with each user. Impressions are not charged, nor are forthcoming organic forms of engagement
Followers – Both impressions and engagements are free, and you only pay for follows.
Awareness – These campaigns allow for promotion to a broad audience. You pay per impression, on a CPM basis.
Video Views – You only pay for promoted views once a user has viewed two seconds of playback, or has either unmuted or full screened your video.
Website Clicks or Conversions – Clicks or conversions are charged, depending on your chosen means of promotion. You have full tracking of all conversions and you are allowed to include a 'Website Card' with your tweet. This gives a preview of your site from within your Tweet.
App Installs or Re-Engagements – You opt to pay for either installation or app re-engagements. These campaigns let you include an 'App Card', which supplies a preview image of your app, with your rating within your Tweet. Single-click app installation from within your Tweets is provided.
Lead Generation – 'Lead Generation Cards' are included in these campaigns, which charge you per lead collected. You create the card from within the Twitter Ads Manager and leads are saved to your Twitter Ads Account.
After choosing the type of campaign from within the Twitter Ads Manager, you then need to name it and define a target audience. Detailed demographic isolation is supplied, and you can also select an audience based on interests, behaviours, keywords and information such as businesses Tweeted about. Define a budget and then proceed to either selecting an existing Tweet to promote, or create a new one.
The Strengths Of Twitter And Facebook Advertising
Facebook is the more affordable platform, with Twitter recently falling under harsh criticism for its rising advertising rates. However, the power of both platforms should never be underestimated. Twitter Ads cost on average six times more than they do on Facebook, but the CTR is between 8 and 24 times higher. This does not mean that Facebook is not lucrative. It gives the greatest degree of flexibility to fine-tune your audience. Here is a look at where each advertising platform excels:
Facebook Advantages:
Facebook Insights is a goldmine of demographic research, allowing you to pinpoint an exact audience.
Facebook is cheaper than Twitter, allowing SMEs to split test multiple smaller campaigns before committing a large budget.
Facebook gives you the potential to reach 1/5th of the world!
A growing number of business owners rely on Facebook to influence their purchase decisions.
Facebook Ads gives you a massive number of metrics to track user engagement, conversions and ROI.
Twitter Advantages:
Brands draw greater exposure from Twitter, with almost half of all Twitter users following brands on the social network.
Twitter has the highest CTR out of all social networks.
With over 80% of all Twitter's ad revenue originating from mobile users, the social networks hold extensive mobile marketing benefits.
When using Twitter, you have the ability to focus your posts on audience members who make up upper-management and decision makers within target businesses.
Hashtags give you a means to reach new audiences with unparalleled ease.
Reap The Benefits Of Both Platforms
A comprehensive marketing strategy needs to include a balance of both Facebook and Twitter Ads. It is often advisable to begin growing your brand online through Facebook, as it proves most affordable. However, once you are looking for targeted product promotion, or need the attention of a notable person, brand, movement or institute, Twitter has you covered, at albeit a higher rate.
Split-testing your campaigns across both networks is a good way to establish what is needed at which stage of growth. A partnership with a knowledgeable marketing agency – such as JDR – will also give you the guidance needed to include facets of both Facebook and Twitter advertising in your strategy. Tested techniques and strategies can be applied to your product or brand, melding exposure from multiple social platforms in order to facilitate the greatest ROI.