Which Email Marketing Service Is Best? 4 Of The Leading Software Programs Reviewed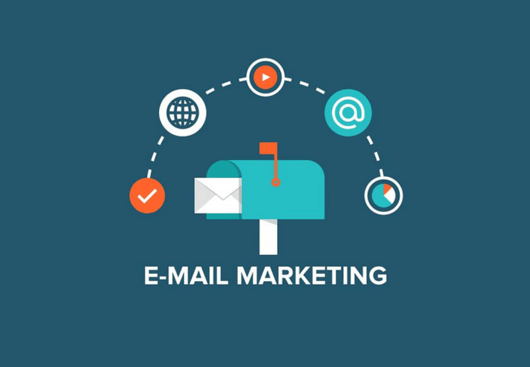 There are so many email marketing platforms available that it can be difficult to know where to go to find the right one for you. While most of the apps have their plus points, some are better for B2B marketing than others.
So which email marketing service is best?
These are four of the platforms we've reviewed and the reasons we recommend them.
1) Mailchimp
Cost: Free for 2,000 contacts; paid packages from £20 /$30 per month, based on number of contacts. Or pay-as-you-go credits with a cost per email.
The Good: Mailchimp is a popular choice for small businesses and sole traders because of how intuitive it is to pick up and easy to use. Creating an email campaign is as simple as selecting a template, adding your content, uploading your contact list and pressing the send button. You can send your campaign immediately or schedule in advance.
Once your email has hit the inboxes, Mailchimp will give you a detailed breakdown of open and click rates, as well as any bounces or dud email addresses. Mailchimp also manages your unsubscribes for you, to keep list maintenance to a minimum. Plus it's completely free for small lists, with access to all the functions of the platform, excluding some of the more detailed analytics features. The pay-as-you-go feature is also useful, meaning you can send larger campaigns from time to time if you need to, without having to sign up for a monthly package.
The Not-So-Good: Mailchimp comes with a WYSIWYG template editor that is fairly easy to pick up but has limited customisation options. If you stick with the Mailchimp templates, you may find that after a while all your emails look the same, and it is often difficult to get the layout right. However, you do have the option to bypass this by uploading your own HTML email templates, or to code directly into the application if required.
Our rating: 10/10: The best all-round system for small businesses and independent entrepreneurs.
2) Aweber
Cost: From £12 / $19 per month for up to 500 contacts.
The Good: Of all the paid email marketing packages we've reviewed, Aweber is one of the most affordable. In terms of function, this tool is comparable to Mailchimp, with a slight edge in terms of reporting options. Aweber has extensive integration options with other apps, including a WordPress plug-in that makes it really easy to add signup forms to your blog posts and webpages. There are also a bunch of handy features such as a number of auto responders and RSS-to-email feeds. For comparing results between different campaigns, Aweber is a really good app. It's split testing feature allows you to measure results from a single campaign against different segments of your list. Although there are no free usage options, Aweber doesn't tie its users into a long-term contract. Subscriptions are on a month by month basis.
The Not-So-Good: Aweber is slightly let down by an old-fashioned layout and awkward user interface. This compares unfavourably with the slick design and relaxed UI of Mailchimp. It is also considerably easier to use Aweber on a desktop computer, rather than a mobile device.
Our rating: 9/10: an impressive suite of premium email marketing features at a very affordable cost.
3) Dotmailer
Cost: Price on application based on email volumes.
The Good: Every email marketing platform comes with its dedicated fan base. For many experienced users, Dotmailer is the easiest and most comprehensive platform currently available. It certainly has some significant strengths. The app's email template editor is one of the major plus points. It allows you to create eye-catching and original email layouts in no time with a simple drag and drop interface. Dotmailer also comes with one of the most sophisticated segmentation tools we have come across. In an age where 'fire and forget' email marketing no longer works, precise segmentation by buyer persona is essential to a successful campaign. Dotmailer lives up to and exceeds all our expectations for a niche marketing tool. It also has an extensive range of reports, which can be augmented by charts and graphics, and downloaded as PDF files.
The Not-So-Good: Dotmailer isn't the cheapest platform and some users question whether it is value for money or not compare with other less expensive services. There are also mixed reviews about the company's customer service responsiveness. The app seems to be aimed primarily at large-scale marketing organisations rather than individual SMEs, but this isn't to discount how useful Dotmailer can be as a B2B marketing platform.
Our rating: 7/10. A serious email marketing app for serious email marketers. Dotmailer loses points because it is potentially intimidating for newbies. It comes with a lot of features and a steep learning curve, without extensive customer support, so we don't recommend this for newcomers to email marketing.
4) Epicsend
Cost: From £6 /$10 per user per month.
The Good: Epicsend is a hard-core campaign management platform for regular email marketing users. The app is really easy to use and gives plenty of customisation options for your templates. If you've got a big contact list and you send a mixture of newsletter and promotional content by email, then this tool is designed for you. You will find all the features you would expect from a high-quality email marketing platform, such as bounce tracking, auto responders, and unsubscribe management. You can also set up emails triggered by certain events, such as a promotion sent whenever someone signs up for your newsletter on a website for. Epicsend is just as easy to use on a mobile device as it is a desktop PC and, importantly, it's email templates are responsive to the device your readers are using.
The Not-So-Good: Epicsend appears to have been designed primarily with online retail customers in mind, so for B2B marketers some of its features – such as smart TV compatible email templates – may not be relevant. While it functions excellently as a self-contained application, Epicsend isn't as good at cross-platform integration as some of the other tools we've used. This is something to be aware of for businesses engaged in multiple marketing channels, rather than simply email marketing.
Our rating: 8/10: a refreshing, modern email marketing app with extensive features and great customer support.
Making the right choice
You could spend a lifetime trawling through all the available email marketing platforms. There are literally hundreds available and more are coming online all the time. A lot will depend on the functions you need from your platform, how regularly you carry out email marketing, and how much budget you want to invest. Think about what you want to use emails for; are you looking for a sales tool, a newsletter manager, or a means to promote your blogs and video content?
The key features to look for when making your choice are integration with other platforms, such as email browsers, social media, and other marketing tools; and a creative, user-friendly design interface. An email platform is only as strong as the content it allows you to create, regardless of how many other features it offers you. Automation is also important; a platform with good scheduling and list management features will save you a lot of valuable time.
Chat one of our digital marketing team for independent advice about the best choice of email marketing package for your business.